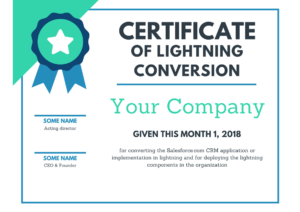 Salesforce.com Lightning is new and fast User Interface of Salesforce applications including Sales Cloud and Service Cloud. The new fast and simple UI helps increase the productivity and work smarter. Salesforce is now doing the new features and enhancements only in lightning. Going forward in few years Classic User Interface of Salesforce.com CRM may be retired or deprecated. If you have already not planned for Lightning conversion and roll-out in your Salesforce implementation – this is the right time to do so. At Dhruvsoft we offer an array of Lightning services that can help you implement and deploy lightning effectively.
Our Lightning services include:
Lightning Readiness Evaluation
Is the Lightning Experience right for your Salesforce Implementation? We offer free Lightning Readiness Evaluation services to Salesforce.com Classic customers wherein we provide free evaluation report of your existing setup based on up to two person days of evaluation study. We recommend a Lightning Experience Roadmap based on this evaluation.
Lightning Experience Implementation / Deployment
Lightning Experience Implementation / Deployment services help Salesforce.com Sales Cloud, Service Cloud and App Cloud customers to effectively convert to lightning, implement and deploy lightning experience in your organization. Our deployment services include re-training your users and administrators.
Appexchange App Lightning Conversion
We offer services for Appexchange partners to convert their Appexchange apps to Lightning and make them Lightning Ready.
Salesforce lightning development
We offer services to develop Lightning Components. Whether you are an Appexchange ISV partner or Salesforce.com customer who has implemented Salesforce.com CRM – we can develop and deploy reusable lightning components.
Connect with us for a free / no obligation evaluation of your Salesforce.com ORG or App for Lightning Conversion – Click here to Contact.