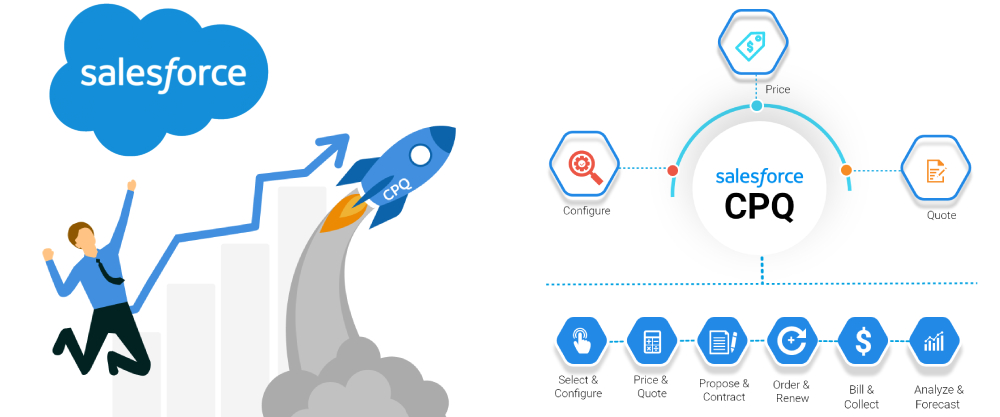 Dhruvsoft's Salesforce CPQ and Billing Implementation Services are designed to simplify the quote-to-cash process for organizations. As a leading Salesforce CPQ Implementation Partner, we enable organizations to generate precise quotes quickly and without errors. Our skilled CPQ consultants specialize in implementing intricate pricing rules and validations using Salesforce CPQ. So, if you are seeking to streamline your sales process and enhance your pricing strategy, look no further than Dhruvsoft's experienced team.
Our team of experienced and qualified CPQ Consultants offer end to end services for Salesforce CPQ Implementations. As one of the leaders among Salesforce CPQ Implementers (formerly Steelbrick CPQ) – we bring best practices from across the industries.
Our Salesforce CPQ Services include-
Salesforce CPQ Implementation
Salesforce CPQ Development
Salesforce CPQ Support
Salesforce CPQ Optimization
Salesforce CPQ & Billing Implementation
Our Salesforce CPQ & Billing Implementation Services cover discovery, design, implementation, testing, and deployment, and are led by a team of experienced CPQ consultants who bring industry-leading best practices to ensure the success of your project. We specialize in helping organizations to generate accurate quotes quickly, while also streamlining their billing and revenue recognition cycle.
Salesforce CPQ Proof of Concept (PoC)
Discovery and Requirements Gathering for CPQ & Billing / Quote to Cash\
As is and To be process mapping and gap analysis
Implementation of Salesforce CPQ & Billing
Testing & Deployment of Salesforce CPQ & Billing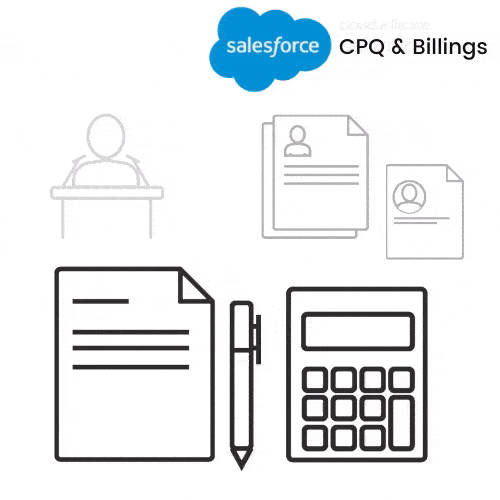 A typical implementation phase will include following activities –
CPQ Installation
Setup Package settings
Products & Price Books Setup
Data Migration
CPQ Bundles Setup
Page Layout Setup
Discount Schedules
Quote Setup, Quote Statuses
Quote Templates
Quote / Proposal generation
Multicurrency and Multilingual Setup
Approval Process / Workflow Automation
Integrations
Roles and Access
Salesforce CPQ & Billing Development
You need our "Salesforce CPQ & Billing Development Services", if you want to extend the capability of Salesforce CPQ & Billing beyond out of the box. Our Salesforce CPQ developers have extensive experience in designing and developing custom Quote-to-Cash solutions. Our team of experienced Salesforce CPQ developers will strive to ensure maximum return on investment on your Salesforce CPQ Dollars.
Salesforce CPQ & Billing Support
Our Salesforce CPQ & Billing Support Services are designed to help organizations achieve ongoing success. As your organization continues to evolve, adding new products and adjusting pricing rules to meet market demands, it's crucial to have ongoing support to ensure your CPQ / Billing rules and settings are optimized for success. Our expert CPQ Success consultants provide ongoing support, allowing you to focus on your core business.
During the support process, we optimize the setup and implement best practices to continuously improve the implementation. Our support services cover a wide range of areas, including configuration, new product setup, setup changes, customization, data management, end-user support, and admin support. With our support, you can rest assured that your Salesforce CPQ & Billing system is functioning optimally and efficiently, allowing you to maximize your revenue potential.
Salesforce CPQ & Billing Optimization
Our Salesforce CPQ & Billing Optimization will help you to get the best out of your implementation. CPQ & Billing processes in organization are dynamic and they need to meet the ongoing needs of the industry. And with change in the business environment comes the change in your processes and expectations from the software. We evaluate and optimize the Salesforce CPQ & Billing implementations according to industry best processes.
Why select Dhruvsoft as your Salesforce CPQ implementation partner:
Experienced team of CPQ consultants
Leading Salesforce CPQ Implementation Partners
Flexible team to meet your expectations
Industry Best Practices
Quality Services
On-time delivery
Offshore services – Optimized cost
Connect with Dhruvsoft – top Salesforce CPQ Implementation Partner – to know more about our Salesforce CPQ and Billing services. – Contact Us