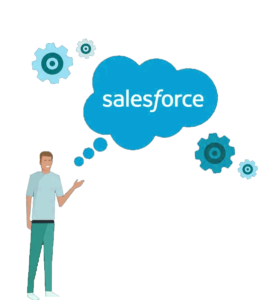 DhruvSoft offers complete range of Salesforce.com Services including Salesforce.com CRM implementation, Salesforce.com CRM Quickstart for Group, professionals and Enterprise editions. We also offer exclusive Chatter implementation service and custom corporate training services for Salesforce.com CRM.
Salesforce.com CRM Implementation
Salesforce.com CRM is the leading on-Demand CRM for your Business. Dhruvsoft helps small and mid size business with Salesforce.com CRM deployment in their organizations. We help companies make a quick transition to running their sales, customer service and marketing processes to on demand SaaS application – Salesforce.com CRM.
Quick Start Salesforce.com CRM
Quick Start Salesforce.com Service Offerings are for customers who want results fast and are looking for return on their investment within a short time. The Quick Start Salesforce.com Service Offerings are for small to mid size business or pilot implementations where the user base is typically up to 100 users. Dhruv Soft has created the Quick Start Salesforce.com Offerings to meet your implementation and budget needs.
Salesforce.com Training
We offer Salesforce.com CRM Training in Hyderabad India for customers in India and abroad. Our Salesforce CRM Training is delivered in classroom at customer premises or at our office. Look for Salesforce.com CRM Training schedule in India at our events page.
We offer training courses for every role in your organization – Administrator, Developer, Consultants or End user. If you are planning for implementing Saleforce.com CRM – you can trust our experience in cloud computing and SaaS deployments.
Chatter Implementation
The Chatter Implementation Service offering includes end to end setup and implementation of Salesforce.com Chatter within 1 to 4 weeks. The Chatter Implementation package is for Group / Professional / Enterprise / Unlimited Editions of Salesforce.com. Chatter is a free service provided by Salesforce.com to enterprises for internal collaboration among employees. The Chatter service offered by DhruvSoft can be implemented for either Service Cloud or Sales Cloud or stand alone without deploying any other Salesforce product.