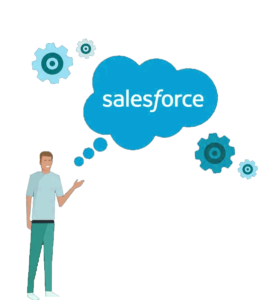 At DhruvSoft, we provide a comprehensive suite of Salesforce consulting services that cater to all your business needs. Our offerings include Salesforce.com CRM implementation, Salesforce.com CRM Quickstart for Group, professionals, and Enterprise editions. We also specialize in Chatter implementation service and customized corporate training services for Salesforce.com CRM. Trust our expert team of Salesforce consultants to help you streamline your sales processes and accelerate business growth.
Salesforce.com CRM Implementation
Dhruvsoft is a team of experienced Salesforce consultants who specialize in providing top-notch Salesforce implementation services for small and mid-sized businesses. We understand that deploying Salesforce.com CRM can be a game-changer for your organization. That's why we're dedicated to helping you make a seamless transition to the on-demand SaaS application of Salesforce.com CRM. Our Salesforce consultants work closely with your team to ensure that your sales, customer service, and marketing processes are fully optimized and integrated into the Salesforce.com CRM system. Choose Dhruvsoft as your Salesforce implementation partner and experience the transformative power of Salesforce.com CRM for your business.
Quick Start Salesforce.com CRM
If you're a small to mid-sized business looking to see results from your Salesforce implementation quickly, then Dhruvsoft's Quick Start Salesforce.com Service Offerings are just what you need. Our team of Salesforce consulting experts has designed this service specifically for businesses that want to see a return on their investment within a short period. Whether it's a pilot implementation or a small user base of up to 100 users, our Quick Start Salesforce.com Service Offerings can help you achieve your implementation goals within your budget. With our Salesforce consulting expertise, we'll guide you through the process to ensure that you get the most out of your Quick Start Salesforce.com Service.
Salesforce.com Training
At DhruvSoft, we offer Salesforce.com CRM training services to customers who are taking implementation services with us, both in India and abroad. Our training is tailored to meet the specific needs of your organization and is delivered either at your premises or at our office.
Our training courses are available for every role in your organization, including administrators, developers, consultants, and end-users. We believe that our experience in cloud computing and SaaS deployments makes us a trusted partner for customers planning to implement Salesforce.com CRM.
Chatter Implementation
DhruvSoft offers a Chatter Implementation Service that includes end-to-end setup and implementation of Salesforce.com Chatter within 1 to 4 weeks. The Chatter Implementation package is available for Group, Professional, Enterprise, and Unlimited Editions of Salesforce.com. With our expertise in cloud computing and SaaS deployments, we ensure that the implementation process is smooth and hassle-free for your organization. Our Chatter Implementation Service can be implemented for either the Service Cloud or Sales Cloud, or as a stand-alone implementation without deploying any other Salesforce products.