Multiple Activity Manager for Salesforce.com is a free app by Dhruvsoft that helps end users save time by giving option to create & edit multiple activities – both tasks & events from one single page. This is 100% native Salesforce.com app with custom setting to include / exclude fields on Activity page.
For Salesforce.com users editing the tasks and events one by one is a very time consuming process. Our app Multiple Activity Manager Apps enables them by providing a way to create multiple tasks and events from one single page. The Multiple Activity Manager app has option to view tasks and events for a date range on a page and edit them.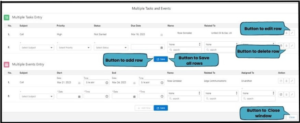 This app gives a great way for your Salesforce.com users to report their end of day activities from one single page. In the same way they can plan their events for next day from a single page in Salesforce.com instead of going to multiple pages.
Features of Multiple Activity Manager for Salesforce.com
Create Tasks and Events a Single Page and save time
View Tasks and events for a date range to Edit
Edit / Close Tasks and Events from a Single Interface instead of one by one
This is a 100% native Salesforce.com app
Custom setting to include / exclude fields on Activity page
Setup can be done in few minutes
Requirements of Multiple Activity Manager for Salesforce.com
Works with Performance, Unlimited, Enterprise and Professional editions
Install Multiple Activity Manager for Salesforce.com
Click on link below to Install Multiple Activity Manager for Salesforce.com from Appexchange