You get extensive functionality of Marketing Automation when leveraging ZOHO CRM – the top CRM solution for small and midsize companies, for your business. We as leading partners of Zoho CRM in India offer solutions and services that help clients implement Marketing Automation solutions.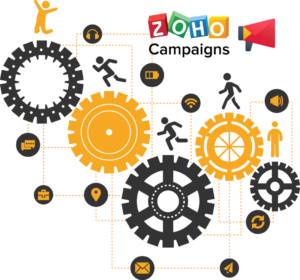 ZOHO CRM offers useful marketing tools like Campaign management, Email marketing, and Web Forms (to generate leads, contacts, and cases) integrated with your website. It provides robust CRM integration between sales and marketing activities. It increases the volume and improves the quality of lead generation, thus providing better return on your marketing expenditure. Its reports and analysis dashboards provide intuitive insights for measuring the performance and effectiveness of the campaigns
Features of Zoho Marketing
Campaigns Campaigns refer to the marketing process which is planned, executed, distributed and analyzed. Clients can Create Campaigns and Add Campaigns to Leads/Contacts.
Web Forms Web forms will help you to capture leads contacts and cases online. In Zoho you can Set up multiple Web Forms, Can Insert Captcha and create Auto Response Rules to the forms.
Email Marketing You can Use emails to reach numerous customers by sending mass emails and use auto-responders to follow up with the customers. Zoho helps you with Sending Mass Emails, Schedule Mass Emails, and also Setup Auto-responders.