Salesforce Integration Services offered by Dhruvsoft, include custom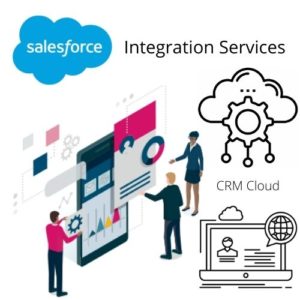 integration services using REST APIs, SOAP APIs, integration middleware such as Informatica, Jitterbit, Mulesoft, Dell Boomi or integration using the apps from Appexchange. Our team of expert Salesforce Integration Consultants can help you integrate Salesforce with any complex of simple third party application. A seamless Salesforce integration will help your organization in the following ways –
Connect your Marketing, Sales & Service with ERP, MRP, SRP and other back office and legacy systems

Get a true 360 degree view of the customer across all systems

Implement a multisystem end-to-end workflow across the systems

Get real time data access to provide better sales and service experience

Enhance the efficiency of process execution
Integration Services we offer
We offer an extensive range of services for integrating Salesforce.com CRM or Force.com applications to other enterprise applications. Our Salesforce integration services include
Salesforce integration Design

Salesforce Integration Development

Testing of integration components

Integration Deployment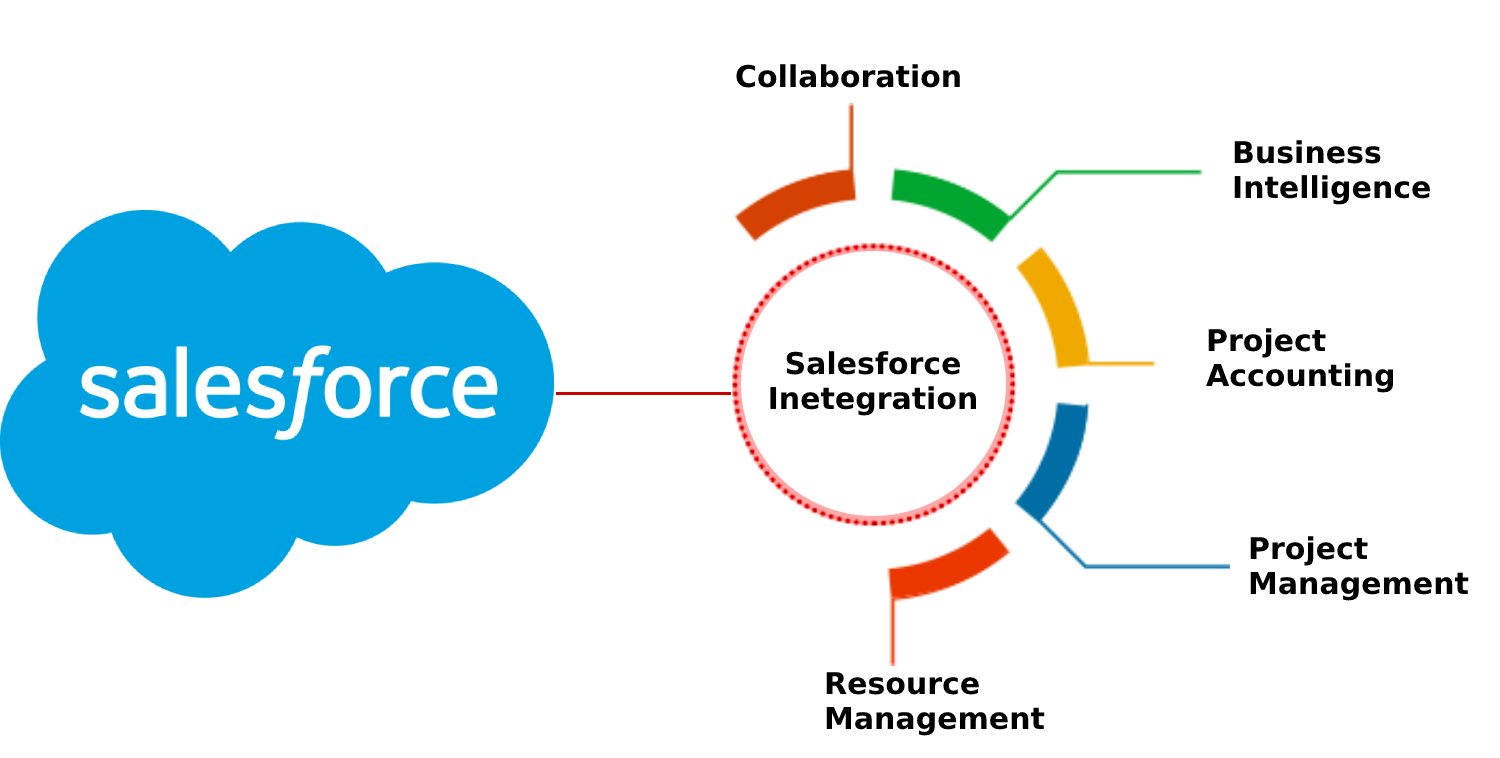 Salesforce Integration approaches
App based integrations – Our consultants can help you select one or more of integration apps available on Appexchange and set them up for the integration you are looking for.
Direct Salesforce Integration – This is custom developed Salesforce integration using REST / SOAP APIs. Mostly these are point to point integrations and are advisable when there are few integrations.
Salesforce integration through Custom Middleware – In some scenarios we develop custom middleware – typically hosted on AWS or Heroku that integrates Salesforce with one or more other end points. The approach is advisable when there are multiple systems to be integrated and API limits are of constraint.
Salesforce Integrations through Third party Integration Platforms – This approach uses integration middleware such as Informatica, Jitterbit, Mulesoft, or Dell Boomi.
Salesforce Integration Use Cases
Success of Salesforce CRM implementation can be directly linked to keeping data up to date. the potential of valuable enterprise data which other becomes a "silo" can be unlocked by integration. Here are some of the use cases of Salesforce.com Integrations
Salesforce to ERP integration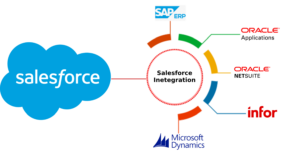 One of the most common  use cases of Salesforce.com integration is that of Enterprise Resource Planning (ERP) software integration. Salesforce to ERP integration will help you to – 
Better align your Front Office Sales with Fulfillment and Back office by placing order directly in ERP

Get a complete view of Customer relationship in CRM including Order Status, Shipment Information, Invoices, payments etc

Get a view on Inventory, Demand for better decision making

Keep the Products and Prices in Sync

Keep the Custom Master in Sync
Our team of experienced consultants have helped clients by integrating Salesforce with popular ERP systems like SAP, Oracle Apps, Oracle NetSuite, Microsoft Dynamics, Infor etc.
Salesforce Integration with Accounting Software
Several small & mid size business use accounting software like Quickbooks or Xero. They can seamlessly create invoices from Salesforce CRM and get financial information within Salesforce.com. Accounting Software integrations help in reducing the double data entry and better control over invoicing and payment collection.
Our team has assisted several clients by integrating Salesforce with QuickBooks, Xero, Zoho Books, Saasu, and Myob.
Salesforce Integration with E-commerce Platforms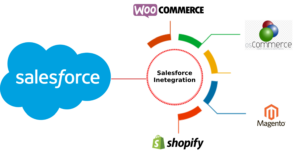 If your company is using an e-commerce platform like Magento, Shopify – integrating your Salesforce.com CRM can help you in better top-line and customer service. Typically such integrations integrate customer information, order information, inventory information etc. 
Our team can help you integrate Magento, Shopify, OSCommerce, WooCommerce and more.
Salesforce Email & Calendar Integration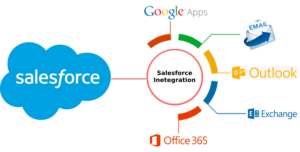 Our team can help you by integrating Salesforce.com with email and calendering services. We have observed a considerable improvement in productivity when emails, tasks and calendars are integrated. It also provides a seamless experience to end users – who need not switch between applications.
Some of the common Salesforce integrations we do are with Microsoft Exchange, Microsoft Office 365, Microsoft Outlook, Google Apps, Gmail or similar services.
Salesforce CTI integrations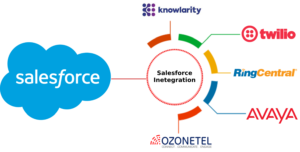 Our team of integration experts can help you by integrating telephony platforms with Salesforce. We can help you with both on-premise and cloud based telephony services. Computer Telephony Integration (CTI) with third party telephony can help you improve customer service. Some of the common use cases include One Click Calls, Automatic Calling, Call Routing & Distribution, Call Popups, Call Logging, Call Recording, and Call Metrics. 
Our team has experience in integration Salesforce with telephony systems like RingCentral, Awaya, Knowlarity, OzoneTel, Twilio etc.
Salesforce Integration with Marketing software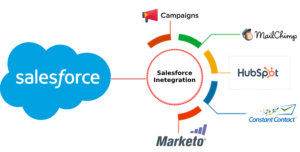 Integration of CRM with Marketing automation systems will help in better aligning Marketing and Sales functions. Such integrations help you in designing customer journeys, engaging with prospects, lead nurturing, and better campaign management. 
Our team can help you integrate Salesforce.com with Partdot, Marketing Cloud, Marketo, HubSpot, MailChimp, Zoho Campaigns, Constant Contact and Eloqua.
Salesforce.com Integration using REST / SOAP API
Our team of integrations developers can help you with two way integration between Salesforce.com and other enterprise applications using Salesforce.com API or custom web services. We have executed several successful projects of creating custom web services to integrate Salesforce.com with websites, mobile applications, external cloud applications (like Accounting), data aggregation services etc.
Salesforce.com integration using Informatica Cloud

We provide services for Salesforce.com integration using Informatica Cloud. Some of the projects we have executed include – Sales Cloud to back office ERP integration, Service Cloud to back office integration, CRM to data warehouse integration and custom integration between Force.com and other apps.
Salesforce.com integration using Mulesoft
Mulesoft CloudHub / Mule ESB is a ready to deploy integration solution of Salesforce.com with other applications through a library of connectors. Our Mulesoft Consultants can help companies integrate Salesforce.com to ERP systems such as SAP, Oracle Apps or Netsuite using Mulesoft ESB and other applications such as Marketo, ZenDesk that help you market and provide seamless service to your customers.
Salesforce.com integration using Dell Boomi

We provide integration services using Boomi AtomSphere for one time data transfer or real time SaaS integration. Our integration services include integrating Salesforce.com with solutions such as Financials, eCommerce, Billing, Marketing automation, ERP, Supply Chain and other Web Services.
Have a Salesforce integration challenge?
Dhruvsoft have a well defined integration methodology to execute the Salesforce integration projects. Our Salesforce integration consultants are equipped to understand your integration needs and provide an optimized solution. Let us connect and discuss your integration challenges.
Contact us to know more about Salesforce.com integration options and to engage us to provide services across the integration project life cycle.