Are you ready to propel your business to new heights by migrating from your current CRM to Salesforce.com CRM? Look no further than Dhruvsoft, your trusted partner in delivering a seamless and efficient migration experience.

We have worked with our customers to migrate from various CRM software like – HubSpot CRM, Microsoft Dynamics 365, Zoho CRM, Pipedrive CRM, Freshsales CRM, Oracle NetSuite CRM, SugarCRM, Bitrix24 CRM, Zendesk Sell CRM.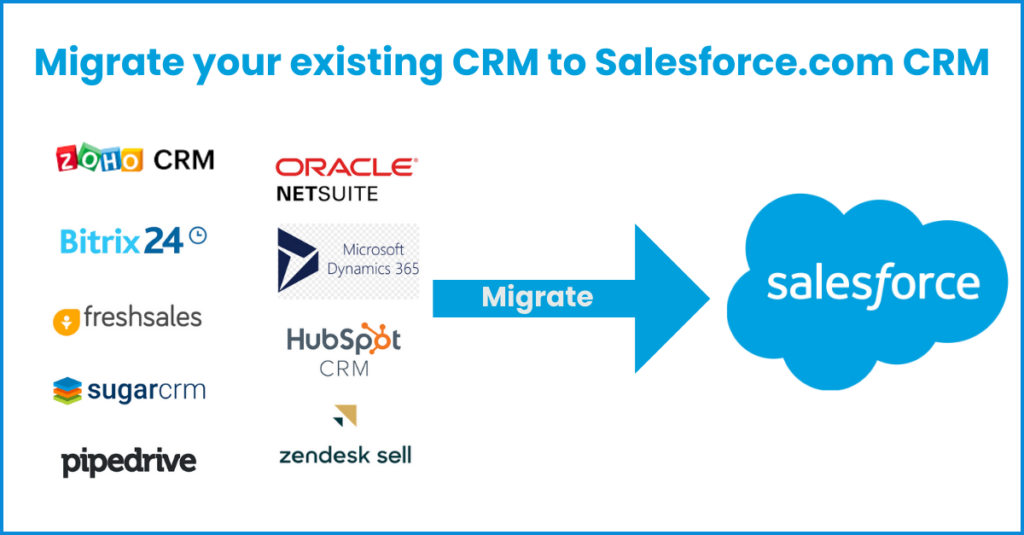 With our extensive expertise in CRM migration, we understand the intricacies involved and are committed to ensuring a smooth transition that empowers your business with the capabilities of Salesforce.com CRM.
Why Choose Dhruvsoft as your Partner for Migration to Salesforce:
Expertise and Insight
Our team comprises seasoned CRM professionals who possess a deep understanding of various CRM systems, including Salesforce.com CRM. We are well-equipped to navigate the complexities of the migration process, ensuring a seamless transfer of your data and processes.
Custom Migration Strategy tailored to your needs
Recognizing that each business is unique, we collaborate closely with you to design a migration strategy tailored to your specific needs. This approach minimizes disruption to your operations and maximizes the potential of Salesforce.com CRM.
Data Integrity and Security
We prioritize the integrity and security of your vital business data. Our meticulous migration process includes comprehensive data mapping, validation, and testing to ensure the accuracy and reliability of your data in Salesforce.com CRM.
Minimal Downtime
We recognize the significance of reducing downtime during the transition. Our streamlined migration process aims to keep your operations running smoothly as you transition to Salesforce.com CRM.
Customization and Integration
Beyond migration, we offer expertise in customizing Salesforce.com CRM to align with your existing workflows and business processes. Our integration solutions ensure seamless connectivity with your current tools and systems, optimizing your CRM's efficiency.
Comprehensive Training and Support
Adapting to a new CRM system can be a challenge. To facilitate a smooth transition, we provide thorough training to your team, empowering them to leverage the full potential of Salesforce.com CRM. Our ongoing support ensures your team is never left unsupported.
Cost-Effective Solution
At Dhruvsoft, we understand the value of cost-effectiveness in business decisions. Our migration services are competitively priced, offering exceptional value for the expertise and assistance you receive.
Our Approach for Migration to Salesforce.com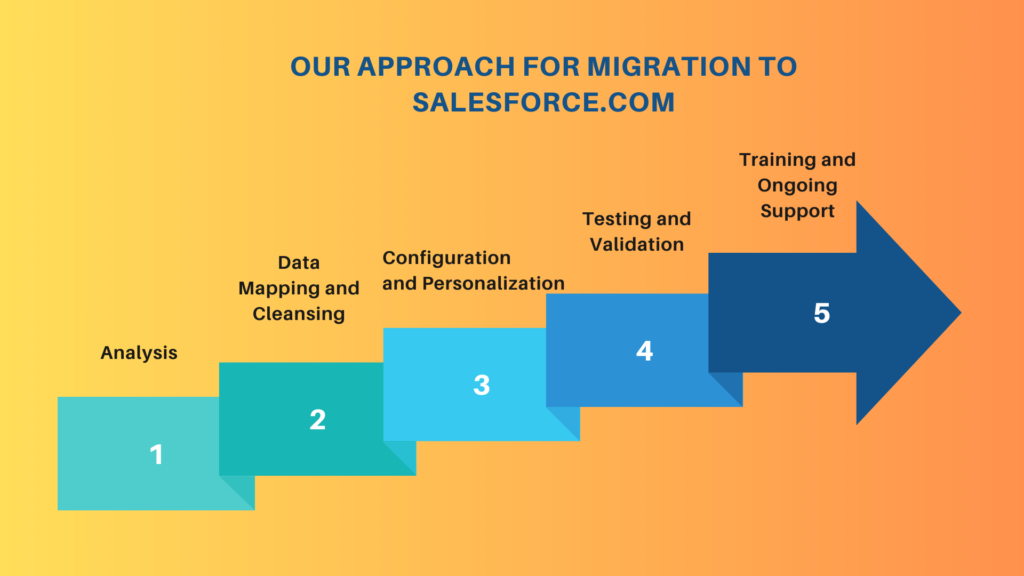 Comprehensive Analysis
We begin by gaining a thorough understanding of your current CRM system, your business processes, and your migration goals.
Data Mapping and Cleansing
Our experts meticulously map your existing CRM data to the corresponding fields in Salesforce.com CRM, while also ensuring data accuracy through cleansing and refinement.
Configuration and Personalization
We customize Salesforce.com CRM to align with your established workflows, ensuring it caters to your unique business needs.
Thorough Testing and Validation
Rigorous testing and validation procedures ensure a seamless migration process while maintaining data integrity.
Training and Ongoing Support
We provide comprehensive training sessions to ensure a smooth transition, followed by continuous support to address any concerns that arise.
Elevate your business with the power of Salesforce.com CRM. Contact Dhruvsoft to discuss your migration objectives and embark on a journey toward enhanced efficiency, streamlined processes, and advanced customer relationship management.
Contact Us to Initiate Your CRM Migration Journey Today!