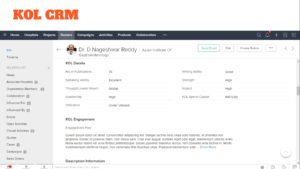 KOL Management Solution for Pharma Companies helps them manage the relationship with Key Opinion Leaders (KOLs). Key Opinion Leaders are physicians who influence their peers' medical practice, including but not limited to prescribing behavior. Pharmaceutical business need a methodical approach and system to target, engage, and enrich the relationships with KOLs. Dhruvsoft's Key Opinion Leaders Customer Relationship Management (KOL-CRM) solution empowers the salesforce of these companies to effectively manage and track KOL relationships.
Key benefits of KOL CRM
The key benefits of the KOL Relationship Management Solution are:
Strengthen the connect between KOLs and Organization
Track all conversations and interactions with KOLs
Provide key information about KOL to make better decisions
Manage activities / events targeted for KOLs
Communicate and engage with KOLs
Key Modules of KOL – CRM
The core modules of KOL CRM solution include:
KOL / KOL Profile – Contact Information, Social Profile
KOL Additional Information

Influences
Influenced by
Organization Membership
Publications
Trials

KOL Engagement Plan
KOL Activities
Associated Hospital / Institution
Campaigns
Collaboration
See a demonstration of KOL Management Solution
We can organize an online demonstration of the KOL solution for your organization. Contact us (Dhruvsoft – a leading KOL Management Solution Provider) for a detailed demonstration of this product.