DhruvSoft Property Solution ERP is an end-to-end solution accelerator for Real Estate developers and brokers which will help simplifying the processes of real estate developers including bookings, checking the real time property inventory, calculating brokerage, tracking payment milestones, making service tax calculations, processing the property allotment & transfers, invoicing customers and aiding in collections.

This solution accelarator has to be used along with Salesforce.com CRM to manage the complete business processes for Property Developers and Propert Brokers.
Property Cloud Features
The features of DhruvSoft Property Cloud include: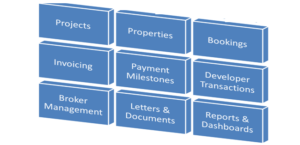 Salesforce CRM extended features
The following features are extended for Salesforce.com CRM Enterprise Edition
Prospect Management: Repository of unqualified prospects captured online, from field sales staff or by telesales team. Leads are qualified for inside sales team before being converted into qualified opportunity. Leads object pre customized to suit Property developers.
Marketing Campaigns: Can be linked to email marketing campaigns customized for property industry.
Companies / Contacts: Companies and/or Contacts who with various data fields to slice and dice data into various categories for targeted offerings. Get 360 degree view of customers with related contact information, interested in projects and properties, bought or booked properties, activity history. In this module the Standard Salesforce.com Accounts and Contacts are customized to Property industry.
Sales Deals: A qualified Sales opportunity tracked to closure with opportunity passing through your customized pipeline stages to closure. The opportunity object is customized to meet the requirements of a property broker or developer.
Quotes: Generate Quote for Properties with customized Salesforce.com quotes.
Reports and Dashboards
Property Cloud on Mobile: Mobile access to Sales Team on Salesforce Mobile
Property Cloud custom features
The following are custom features of Property Cloud App
Developers: Manage developers if you are a real estate broker selling inventory of other developers.
Projects: Development Projects with complete project information with drill down option to each property within the project.
Property: Individual saleable property unit tracked as an inventory within system. Get property attributes, images and features at one place. Get complete visibility on property inventory with details such as availability, on hold, offers received. Get real time information on booking, drill down to payment details, activity and interaction history, pricing and payment information.
Bookings: Query and booking, Real time availability, Application Form, Applicant Information, Allotment letter Generation, Discounts & Approvals, Reminders, Escalations, Reserve, Hold and Release Properties.
Invoicing: Generate Invoices, track taxation. Create payment milestones based on project, price scheme and payment plan offered to customer. Optimize the collection profess with automated alerts to customer, and collection agents.
Property Transactions: Track the process of registration, transfer, possession, cancellation, allotment, surrender etc.
Brokers: Manage Brokers and Sub Brokers for sales through Channel. Track referral clients, broker performance, commission calculations and brokerage payment.
Printing: Printing Bulk Letters, Agreements, Documents etc
DhruvSoft Property Cloud ERP is a solution for Real Estate Developers and brokers and has to be used with Salesforce.com CRM Enterprise Edition.
Software Requirements
Licenses of Salesforce.com CRM Enterprise Edition or above
How to Install
DhruvSoft Property Cloud ERP Solution Accelerator is offered as a package in Client's Salesforce.com ORG. This once installed will be further customized as per client requirements.
Upgrades
Since this is a solution accelerators (and not a product) any further upgrades are taken up as solution upgrade projects.
Pricing
Pricing of Property Cloud App is based in on customization that will be required for your company (The pricing does not includes licences of Salesforce.com CRM). Please contact us for pricing.