In this webinar we will explain to you about the Salesforce CPQ, its use, features, and benefits.
The business that use Salesforce CPQ (Configure Price Quote) software report a significant improvements in time, deal size, quotation accuracy, and sales processes.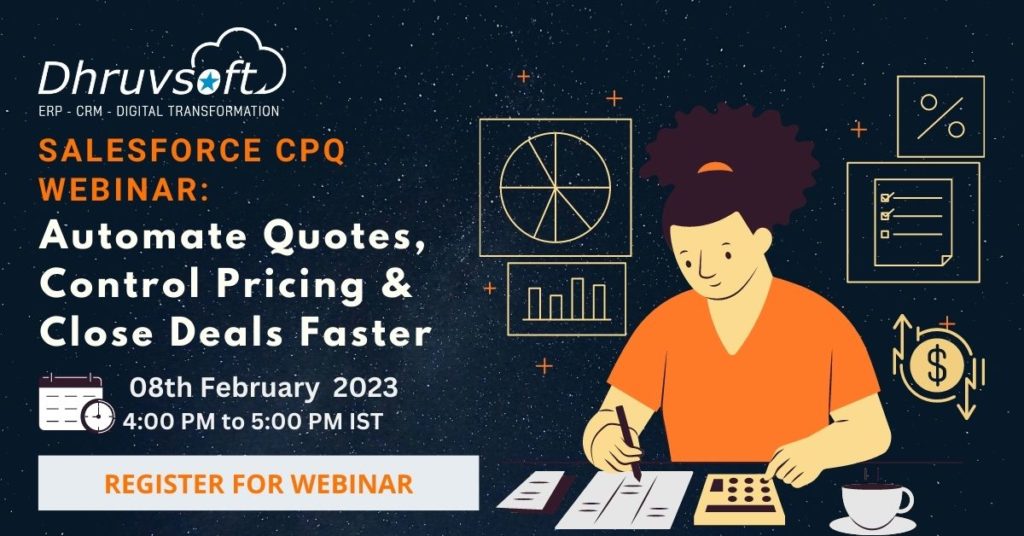 With Salesforce CPQ, your sales team can quickly provide the accurate quote / pricing to potential clients. They can configure the product based on various configuration rules, the pricing can be calculates based on pricing and discounting rules and a format quote can be created.
What to expect from this webinar?
This upcoming webinar will take you through:
Key features of Salesforce CPQ
How to use Salesforce CPQ
Benefits of Salesforce CPQ
Whether Salesforce CPQ is for you?
Demo of Salesforce CPQ
Q&A
Date & Time: February 08th, 2023 – 04:00 PM – 05:00PM (IST)
Register for Webinar: https://events.dhruvsoft.com/Webinar-Salesforce-CPQ#/tickets?lang=en
Reserve your seats now for absolutely free.