No company would like their Customer Relationship Management (CRM) projects to fail. Despite all the good wishes – hundreds of CRM projects fail. Many of them fail to deliver while many fail to complete in the first place itself.
While working on many global CRM projects for some of the large multinationals I have learned to identify some of the key risks that lead to failure of the CRM projects (some of these items here can be generalized to all types of projects although). If we understand these risks and sensitize the project team and executive management with them – many of the project failures can be averted.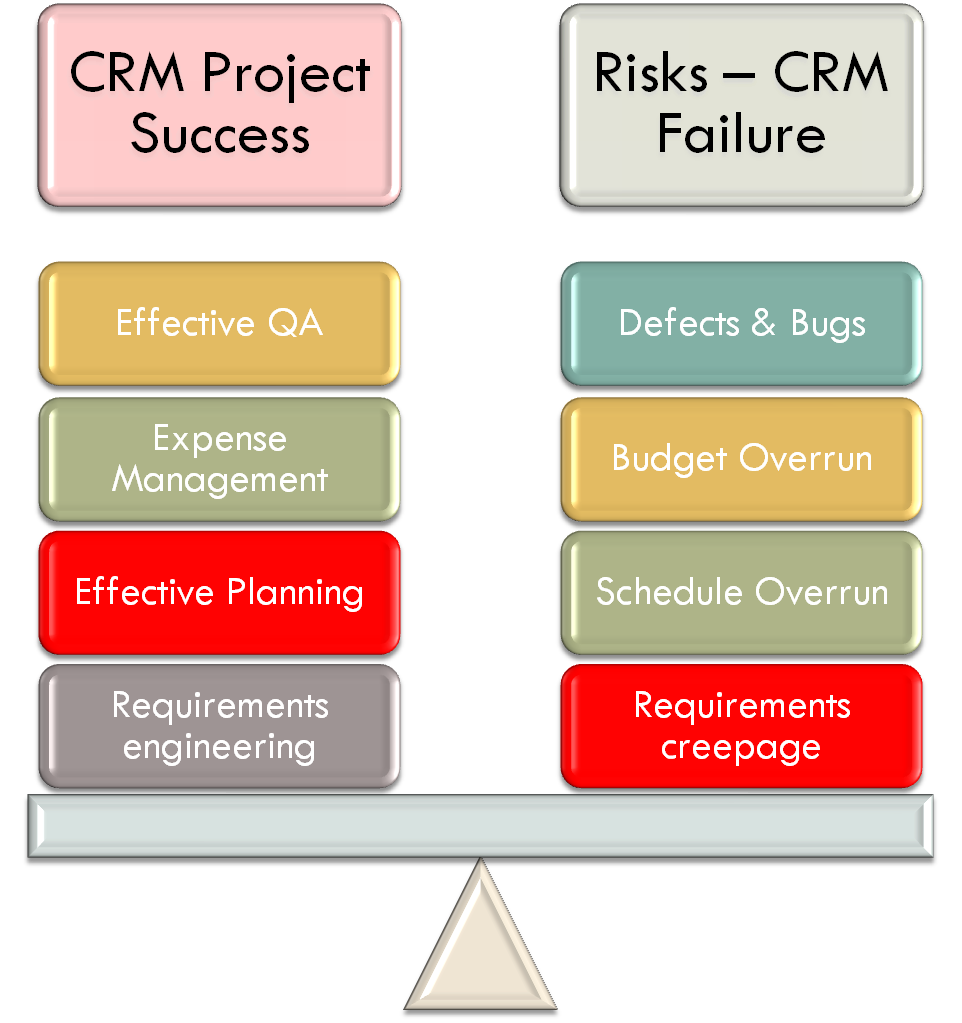 As a CRM project manager – (I have done this and) I feel any CRM project manager can do their job by highlighting these risks to the project and management team. I am of the opinion that 80% of project management is risk management – and that is the importance of risks and managing those risks to avert the project failure.
Poor Business Requirements
Minimize the risk related to requirements engineering by hiring experienced consultant who can document the requirements in greater detail and avoid any chance of requirements creepage.Most CRM projects fail due to poor conceptualization of business requirements. What CRM vendor sold to them, what they understand of that, what was understanding of CRM implementation consultant and what was finally delivered – all needs to be in sync. Sometimes business assume certain features to be a part of software, that when not delivered makes them unhappy and leads to poor adoption.
Schedule overrun
Schedule overrun and delay in delivery are a fact of CRM projects. The risk is not managing that and living in a world of fantasy that despite all the indicators of overrun the project will somehow be delivered on time. Lets accept the fact – go back through the approval process and work as per realistic schedule.
Bugs & Defects
Bugs & Defects in a delivered project is a sure way of exposing your project to the wrath of end users. This will kill the project as the adoption will hit immediately. Delivering a CRM project without testing and quality checks performed is like driving in dark – you never know which bug or defect will show when and where.
Hire an external team for quality & software testing. Have a separate QA environment and setup a QA process for your project.
Budget overrun
Budget is critical and budget overrun is also very common in projects. Many times we can not envisage an additional functionality that was not part of original scope. Many pieces turn out to be more effort consuming than we thought. Budget overrun are part of CRM projects. However we need to budget and monitor them on an ongoing basis and track them against real expenses. Also for any budget overrun we have to ensure that we are taking management approvals much before they are crossing the line.
Conclusion
Remove the risks from your CRM project by managing the above risks before they become a real risk. If you do not manage the risks of the project it may lead to a business risk – that may be difficult to handle.
To discuss about your CRM project our approach to manage your next CRM project – connect with us by filling the contact form in sidebar.