Lightning Scheduler : In this article we are giving an overview of Salesforce.com Lightning Scheduler. We will be discussing its features, its pros and cons and its differences with Field Service Lightning.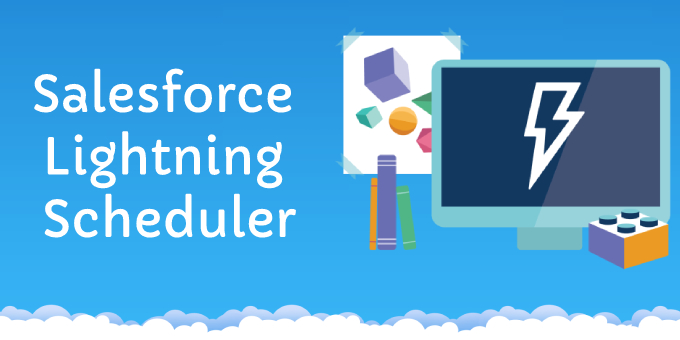 What is Salesforce Lightning Scheduler?
Salesforce Lightning Scheduler helps your customers and prospects in scheduling appointments with right person in organization at the right time and location. You can use Lightning Scheduler to quickly set up appointments within standard objects like leads, opportunities, and accounts. With the help of Lightning Scheduler we can assign resources more efficiently and customer needs can be met more accurately.
Capabilities of Salesforce Lightning Scheduler
With Salesforce Lightning Scheduler you can –
Maintain employees information including their skills, locations, and availability
Create your company locations and hours of operation
Setup appointment context – business activity for which you will be setting up the appointments
Match the employees with right skills for appointment evaluating their skills, expertise etc.
The scheduler will schedule appointments and add relevant attendees.
We can use Lightning Scheduler within Salesforce workflows and processes.
Field Service Lightning v/s Lightning Scheduler
Salesforce Lightning Scheduler has similar features to Field service Lightning. However they are not same. While Salesforce Lightning Scheduler only focuses on scheduling a person, Field service lightning can schedule other resources as well. Field service Lightning has more advanced scheduling features with the use case in Field service.
Get Salesforce Lightning Scheduler
Salesforce Lightning Scheduler is available as an add on product with
Enterprise and Unlimited editions of Salesforce. Lightning Scheduler is only available with Lightning Experience of Salesforce. Scheduler is not available with Force.com licenses.
Contact us if you need to buy this add on.
Salesforce lightning scheduler pricing
Salesforce Lightning Scheduler is available as an add on license. You will have to buy as many licenses as the users that will be scheduled resources.
Contact us for pricing of Salesforce Lightning Scheduler.