List views give you access to specific sets of data based on a criteria. You have many standard views (created by Salesforce or your administrator) available in Salesforce. In addition to this you can also easily create custom views for the items most relevant to you.
Some of the common views are
All Accounts
My Accounts
My Contacts
New Leads this week
Birthdays this week
Viewing records in a View
Select one of the view from the drop down to view the records in that List View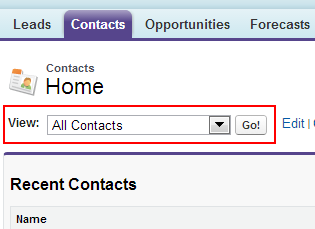 Once selected the records in the List view will be displayed

Sorting records
You can click any column heading to sort by the data in that particular column.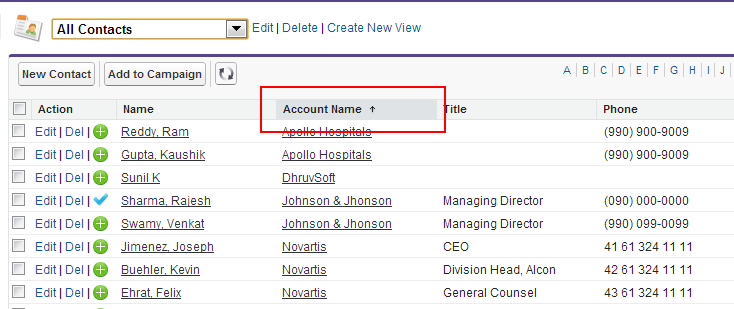 Click the heading again to reverse sort the list …

Viewing more number of records
By default the list views will show 50 records per page. You can view more or less records. Select the number of records you want to view in a List View bottom left:
Viewing records based on starting letter
You can sort on a column and for that column to quickly identify the records starting with a letter you can use the alphabets at the top of list view. Select the starting letter to give you only the results that are starting with that letter.

Printable view
If you want to print the records in a Salesforce.com List view you can use the printable view option. Click on printer icon to view a printable list of the records in the view.
The printable view will look something like this

Navigating within List view
Navigating within list views is very easy. The following options are available for navigating within list views
Next & Previous Links & Go to Page
Toggle between Chatter List view and Data List View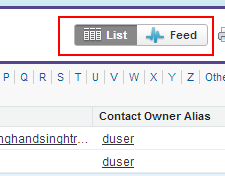 So this is for the starters – in a next post we will learn how to create custom list views or how to modify an existing list view to add more columns to it.