If you are an eligible Nonprofit organization you can get 10 free Nonprofit licenses of Salesforce.com through Power of Use program of Salesforce Foundation. In this post we are explaining about the eligibility and process of getting the free licenses.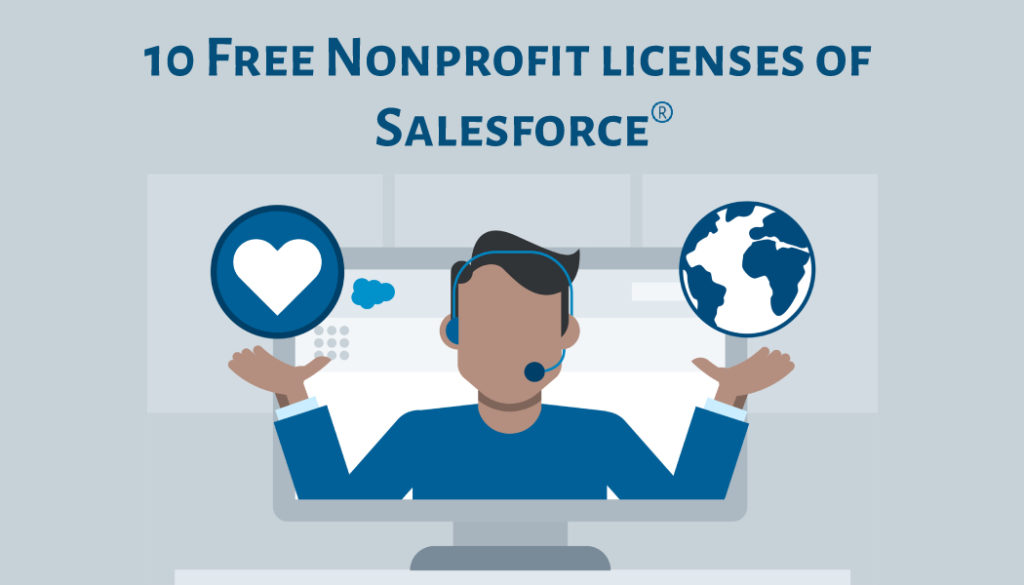 What is Power of Us
Power of Us is a program run by Salesforce.org along with thousands of Nonprofit organizations to create positive change.
What is on offer in Power of Us Program
The Power of Us Program offers:
10 free Enterprise Edition licenses of Salesforce.com Sales Cloud
Highly discounted additional licenses, products and/or services from Salesforce
Discounts on Salesforce training
Discounts on Salesforce events
Access to Nonprofit and Higher Ed specific groups and events
Discounts from Third Party Apps and Consulting Partners participating in the program
Eligibility for Salesforce Nonprofit licenses?
If you want to avail the benefits of the Power of Us program then your organization must be –
Recognized as a charitable, nonprofit, or nongovernmental organization in the country where you are located.
Your organization can be a public or private nonprofit, primary, secondary, and higher education organizations and institutions.
Refer the link below to know more about and check your eligibility to apply for Salesforce nonprofit licenses.
How to apply for Salesforce NonProfit Licenses
Step 1 – Signup for Trial Version
Go to "Getting Started" page on website Salesforce.org and Select "NPSP Free trial" from SALESFORCE FOR Nonprofits.
Once on this page – you can either sign up for Lightning Enterprise Edition + NPSP or you can click to get GET THE ENTERPRISE EDITION WITHOUT THE NONPROFIT SUCCESS PACK
Unless you are sure of this we recommend signing up with NPSP. Sign up for the trial by providing all the information. We recommend giving information of your Salesforce admin user as the contact.
Step 2 – Login to Trial Account
After you signup you will get an email with access information. You can click on the link in email from Salesforce and set your password and security question. Please remember your password and security question.
Step 3 – Apply for the Power of Us Program
Log into the Power of Us Hub using your newly created Salesforce username and password by going to https://powerofus.force.com
After you log into the Power of Us and have gone through all the steps and click on "Take me to the Hub" you can apply by filling out the form https://powerofus.force.com/powerofusapply
Apply within 30 days of creating the trial as otherwise the trial will expire.
Step 4 – Wait for Initial Reply
After you fill out the form you will need to wait for initial reply. Usually it takes 1-3 business days for US or Canada based organization and 5-7 business days for organizations in other countries to get the reply.
You will be asked for more documentation to be share so at this stage you should be ready with all Nonprofit documentation scanned.
Step 5 – Approval
After you have sent off your documentation you will need to wait to be approved. This can take up to up to three weeks.
Need more help?
After you have applied for Power of Us you will be notified with approval at the registered email ID. If there is inordinate delay you can connect with Salesforce or contact Dhruvsoft for any assistance in the process.