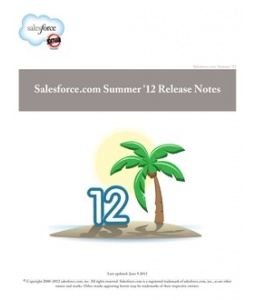 Salesforce.com Summer 12 has been released recently and there are some of the new features that are noticeable. In this post we will discussing about some of the new features that may be of interest to 'End Users'.
General Enhancements
Chatter Messenger: Chatter Messenger allows people in your organization to chat securely with people in Chatter without using external chat clients.
Upload Multiple Files: In Summer '12, you can upload multiple files at the same time from the Files tab and Drag-and-Drop Files.
Sales Cloud Enhancements
Migrate to Collaborative Forecasts (new) which are Now Available to Customers Currently Using Customizable Forecasting
Shared Activities with Multiple Contacts: Now you can Relate Multiple Contacts to a Task – one of which you have to select as the primary contact. (This feature needs to be enabled by Admins)
Service Cloud Enhancements
Case Feed Enhancements: Case Feed gives you a more streamlined way of creating, managing, and viewing your organization's cases. Case Feed includes publishers and a Chatter feed. The publishers let you create internal notes, log calls, change the status of cases, and communicate with customers. The feed displays important case events in chronological order, so you can easily see the progress of each case.
Chatter Answers for Portals: Chatter Answers is a Web community where your customers can post questions and receive answers and comments from other customers or your support agents. Now, you can add Chatter Answers to existing Customer Portals or Partner Portals. Facebook Sign In is also supported for Chatter Answers.
Live Agent in the Service Cloud Console: Live Agent lets service organizations connect with customers or website visitors in real time through a Web-based, text-only live chat. With Summer '12, Live Agent is available in the Service Cloud console. You however need a Live Agent feature license and a Service Cloud user license to access Live Agent
Analytics Enhancements
User Interface: Analytics got some UI enhancements and there are now Distinct Icons for Report and Dashboard Folders and you can now Move Folder Items with Drag and Drop.
Salesforce reports now have joined reports to support cross-block custom summary formulas and charts
In Dashboards you can now directly edit a dashboard component to specify the groupings and summary fields you want to show. Also combination chart that plots multiple sets of data on a single chart is available now.
Mobile Enhancements
Salesforce Touch—Beta is now available for touchscreen mobile devices
In all Salesforce.com Summer 12 Enhancements are more for Service Cloud than Sales Cloud. There are more "Under the Hood" Entrancement that only Administrators and Developers will notice.