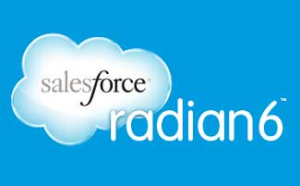 Salesforce.com has announced the New / Improved Radian 6 today. Riding high on the Social CRM wave Salesforce.com, which has acquired Radian6 in 2011, has annouced major improvements in the product.
Radian6 is a social media monitoring platform which monitors what your customers and prospects are saying about your company on the Social Media. The new capabilities announced by Rob Begg, VP of Marketing for Salesforce Radian6 yesterday help companies effectively make sense of what people are talking.
The two most important improvements to note are:
Improved Analytics in Radian6
While Radian6 was focusing on monitoring previously – the platform is now more intelligent as far as the analytics goes. The clients will now be able to aggregate the sentiments and read the mood. the analytics has been integrated in the same dashboard – thus ensuring that companies can respond faster than they can previously.
Radian6 Partnership with Twitter
Salesforce.com and Twitter on Friday announced a strategic global alliance. With the partnership, Salesforce Radian6 customers can analyze more than 400 million tweets daily to listen, fuel engagement and gain customer insight.
Radian6 packages starting from $600 per month have fast become the need of any corporate who want to listen and analyze what their customers and prospects are saying on social media. eCommerce firms are one of the first to use Radian6 as this gives them additional capability to target new prospects.