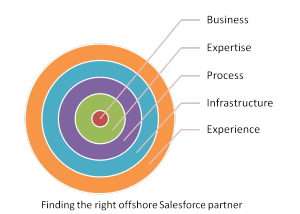 If you have a Salesforce.com consulting business – you may be interested in working with an offshore partner. The reasons could be taking the advantage of low costs in offshore markets or having an expert team to quickly work on your projects or it could be that you want a partner to take care of development / programmatic customizations while you focus on client engagement. Whatever is your reason – in this post we will be exploring some of the qualifications you should look for in an offshore partner before you select one.
With Salesforce.com being a popular product suite there are many offshore companies that have become Salesforce.com partner. On Appexchange alone there are over 700 consulting partners listed. In India (one of popular offshore destination) there are over 50 consultants. In addition to this there may be many companies that offer Salesforce.com services but are not a registerd partner. Considering the large base of consulting companies it makes sense to evaluate the offshore partner carefully and methodically.
Here are the qualifications that you should look for in a Salesforce.com offshore partner:
What kind of 'Processes' they follow?
What kind of processes they follow while managing an offshore project? What tools they use for project management?
Which project lifecycle they follow – agile or waterfall?
How they communicate with client? How they manage the communication in each stage of a project? What communication tools they use?
What quality processes they follow? How they keep record of quality checks? Will they share quality process documentation with you? What quality tools they use?
How they bring the best practices from across industry to your projects?
How is their 'Infrastructure'?
What kind of infrastructure they have? Network connectivity etc
How secure are their office? Do they have dedicated security staff?
What 'Commitment' they are ready to give?
How committed are they to their Salesforce.com business? What percentage of their employees work on Salesforce.com
How long they are working on Salesforce.com projects?
Will they put their own resources or subcontract?
Can they identify the key resources that will work on your assignment so that you can talk to them?
Do they offer a free trial with resource before you confirm?
How 'Flexible' they are?
In which timezone they can work? Can they operate in your timezone?
How flexible is their business model? Are they flexible to work according to your business model?
Can they offer 24×7 support? Or they can offer you extended support?
What kind of 'Expertise & Skills' they offer?
Number of Salesforce.com Consultants, Administrators or Developers they have (Look for the type of resources you want). Evaluate if they have enough resources in their team.
How many of their consultants are certified? Are they offering a certified resource for your project? Or they are committing that resource will get certification within two months (some of these companies certify based on client needs).
How active the resources are on Salesforce.com community, or online community like Stackexchange? What is the quality of their responses?
Speak to the team and evaluate their expertise.
What is their 'Experience' on Salesforce.com
How long they have been Salesforce.com partner?
How many projects they have done? What is the feedback rating of their projects on Appexchange?
What kind of reviews their clients have written about them on Appexchange.
Ask them to share some similar case studies and evaluate the type of experience they have.
What kind of 'Business Proposal' they are offering?
Do they have a single rate or rates based on consultant?
Are they ready to offer a fixed price
What 'Service Level Agreements' or SLAs they offer?
What kind of Service Levels they offer?
What is their turnaround and response time?
Are they ready to agree to SLAs?
Above list may not be exhaustive – however this can be a good starting point to evaluate your offshore partner. It may be possible that you will come across some consultants who have tried offshore partners and were not successful. To ensure success in establishing the relationship with an offshore partner on an ongoing basis you must look for above qualifications.