Salesforce to WhatsApp Integration is the new supported feature by Salesforce launched recently. Now you can have your customers communicate with your support agents using Whatsapp for Messaging and your agents can reply from their Salesforce Service Console. WhatsApp is used by billions of people in almost all countries of the world. Considering this many Salesforce customers are planning to implement this newly released feature.
Two ways of interactions supported by WhatApp
Customer Care Interactions: Customer-initiated conversations that need a response from an agent within 24 hours.
Notifications: Business-initiated, pre-approved, templated messages which will can sent at any time
Required Salesforce Editions for Salesforce to WhatApp Integration
Salesforce to WhatsApp Integration is available in Lighting Experience with the Digital Engagement add-on SKU
Salesforce to WhatsApp Integration is available in Enterprise, Performance, Unlimited and Developer editions with service cloud or sales cloud
Required User Permissions
To set up WhatsApp Messaging "Configure Messaging" permission will be required
To authorize Whatsapp Messaging Customize Application and Manage Auth. Providers permissions are needed
To view WhatsApp Channels you will need View Setup and Configuration
How can you connect WhatsApp to Salesforce?
Ready to connect your WhatsApp for Business account with your Salesforce.com? Here are instructions –
Need to connect the Whatsapp account in Facebook Business Manager.

Go to https://business.facebook.com/ and login to your account.
Navigate to Facebook Business Manager | Business Settings | Business Info. Find your Business Manager ID at the top of the page.
Send an email to WhatsAppEnablement@salesforce.com with the subject "WhatsApp Number Setup" You need to include the following information:

Salesforce org ID (Sandbox or Production).
Facebook Business Manager ID.
The name associated with Facebook Business Manager ID.
The WhatsApp number along with the name and email address to validate the ownership of the phone number, the company name you want to show up on WhatsApp, and if the phone number is a cellphone or landline.
Optionally, some extra details for your WhatsApp company record:

Your company description (max 138 characters)
Your logo, either as a URL or as a file (.png or .jpeg, at least 640×640 pixels)
Your website URL
You need to accept the invitation from Salesforce from within your Facebook Business Manager account.
Next, view your WhatsApp Channel in Salesforce

From Setup in Lightning Experience, enter Messaging in the Quick Find box, and select Messaging Settings.
In the Channels section, refresh your list of channels. A WhatsApp channel appears within the Messaging Channels list view.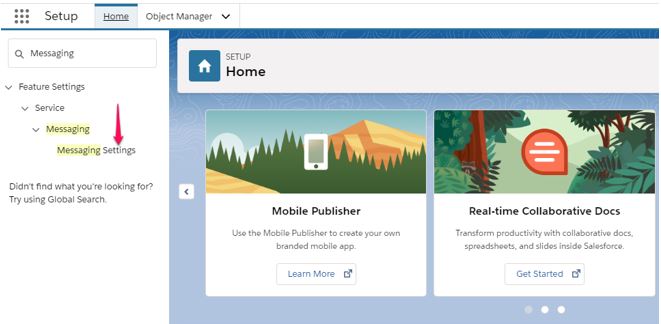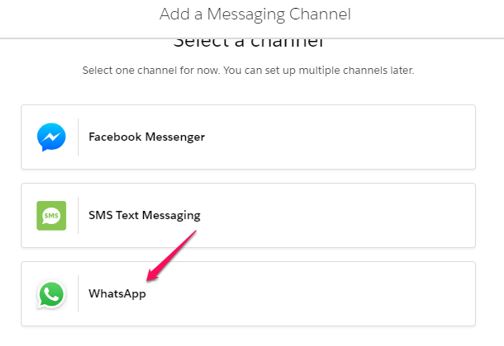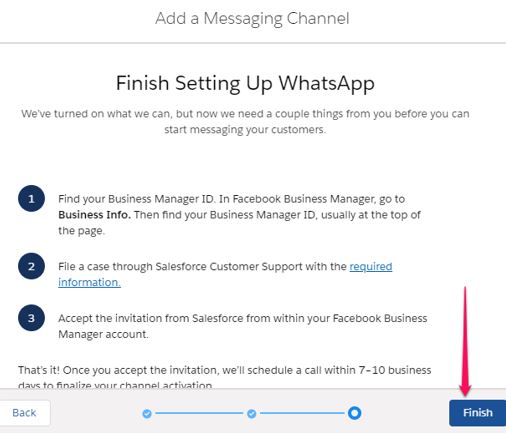 Salesforce to WhatsApp Integration – Important Considerations
Here are some important considerations when implementing Salesforce to WhatsApp integration
Customers can use up to 250 phone numbers for WhatsApp on your Facebook Business Manager account, with WhatsApp's approval.
You can send a message of up to 1600 characters only
If you are sending images the supported image formats are .png, .jpeg, .jpg
When a customer sends a picture – the file previews aren't supported, but agents can download files.
The maximum file size you can send is 5 MB
Unlike regular WhatsApp users the WhatsApp for Business customers can not send stickers, audio files, locations, or contacts using WhatsApp
If a customer replies to a specific message, agents will see only the new message the customer is sending and can't see replies to specific messages.
Best Practices for WhatsApp Integration
You can initiate conversations with customers through outbound notifications. If a customer has opted in to receive the notifications, you can send notifications 24 hours after your last conversation with the customer. For more information refer to this link.
WhatsApp supports 10 notification types, each of which is with allowed use cases. These include types such as shipping update, billing update, reservations update etc. Click on the link to view the supported notifications types.
Need help with Salesforce to WhatApp integration?
Need help with Salesforce to WhatApp integration – connect with Dhruvsoft team – a leading Salesforce practice with affordable rates.