Our Salesforce Tip of the Day today is Using Global Search. Use the Salesforce search feature to quickly locate and find information you need in CRM.
The Global Search in Salesforce.com CRM help you search
All standard and custom objects
Articles
Documents
Products
Solutions
Chatter

Chatter feeds
Files
Groups
Topics
People
(1) Using Global Search – Auto Suggestions
Type your keyword for searching in the Global search. As you type your search keyword Salesforce.com will give you some auto suggestions. These auto suggestions are based on the recent items that you have opened. You can click on one of the suggested record or hit enter to search from all records.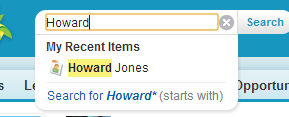 If auto suggestion is not enabled for your Salesforce.com you can ask your Salesforce.com administrator to enable it.
(2) You have to Enter Minimum Three (3) characters  for Salesforce search
You have to use minimum three characters in your search keyword to get the results. Less than three characters will not give  any search results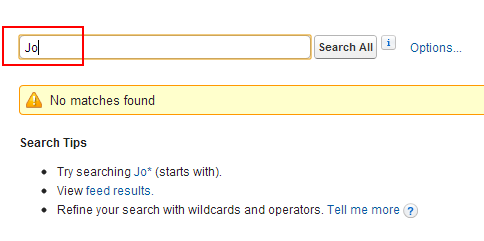 Any search having three or more characters will only provide valid results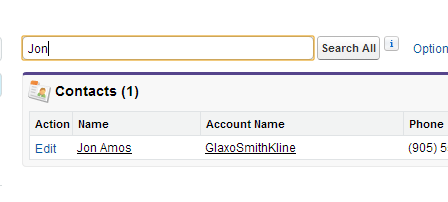 (3) Use Search options to Limit Search to the items your own
Use options to limit the results to the items you own or where you are the owner of the records. To select this click on the options link on the search results:

Select "Limit to items I own" to search among the records where you are the record owner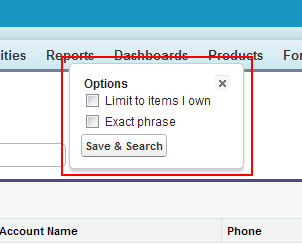 (4) Use Search Options to Limit Search Exact Phrase
User exact Phrase when you want to search on two or more words and want to search the complete phrase. By default Salesforce.com search will provide results by adding AND in between two words.
For example
Search for "Howard Johnson" will search for "Howard AND Johnson" anywhere on the record
Selecting Exact Phrase will search for the complete phrase together. Hence "Howard Johnson" will search for "Howard Johnson" as a complete phrase.
(5) Searching All Objects
By default Salesforce will show the results from the frequently used objects. If you want to search all the objects then click on "Search All" in the object list