Salesforce.com has announced on its website https://status.salesforce.com/ that there is a major issue with Salesforce files. According to Salesforce the issue started at 3.05 UTC the File application in 8 data centers. Due to this issue customers whose servers are in those data centers are not able to read, upload or access files.
Salesforce team has indicated that –
" The Salesforce Technology team has identified an issue with Salesforce files. During this time, clients may experience inability to read or write files and attachments."

https://status.salesforce.com
Issue with Salesforce Files
It seems that during a routine maintenance – a change was made to their file system layout (how files are read and written to back-end storage). The disc volume attached was to the incorrect location. Due to this customers were not able access old and uploaded documents as it will go at different location.
Since then Salesforce team has restored the pointers to previous location before this incident and the customers may now have access to previous files. However the files that they have uploaded during the issue period are still impacted. Salesforce team is in the process of resolving this issue.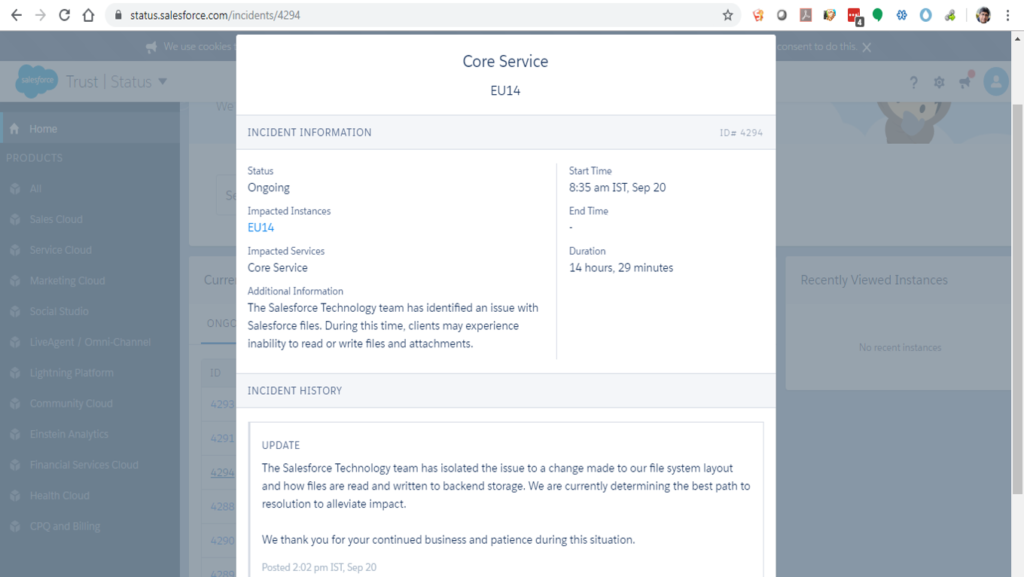 Who is affected by this issue?
This issue is with 8 data centers only and not all the customers are affected. For list of servers this issue impacting visit the status.salesforce.com website.
What to expect during this period?
Users will face performance (slow) or login issues
Users will be unable to use Files
Related services might be slow and not working
How to get help?
Check the status of issue for your server at https://status.salesforce.com/ . If the issue persists then log a case with Salesforce.com support team.