The New Features of Sales Cloud in Salesforce.com Summer 16 are mostly related to Lightning. Salesforce.com is now releasing new improvements in Lightning version only. Here are some of the major changes to Sales Cloud in Salesforce.com Summer 16 release:
Changes to Salesforce Editions
Salesforce has come down to three editions – Professional, Enterprise and Unlimited. With this change more features like Offline Connect, Contracts, Console and Limited Functionality of Entitlements is available with Professional Edition. Knowledge and Live Agent are now part of Unlimited Edition of Service Cloud.
Associate Contacts with Multiple Accounts
Contacts can now be associated with multiple Accounts. Previously one of major challenge that users faced was that a Contact con only be associated with one Account. Over a period many organizations have developed custom code to achieve this. now with Summer 16 release users can associate on contact with multiple Accounts.
New Improved Microsoft Outlook and Salesforce Integration
The Outlook Integration is Improved with the change in UI of the application including the login flow interface. Users can now relate specific Outlook events to relevant Salesforce records. The Outlook users can search Salesforce.com records from within Outlook.
Data quality assessment based on Data.com
If you use Data.com you can do assessment of the quality of your Salesforce.com records to evaluate how healthy your customer account data really is. Data assessment only evaluate but does not change any data.
New Functionality only delivered in Lightning
There are many small improvements that are only delivered in Lightning – showing the path the Salesforce.com is taking of New exiting features only in Lightning. However it needs to be seen – how quickly existing customers migrate to Lightning.
"Auto-fill" on Accounts Settings page will enable American users to prefill the address and other public information of companies while creating Accounts.
Similar to above the logos of American companies will showup if you select a setting "Allow Logos"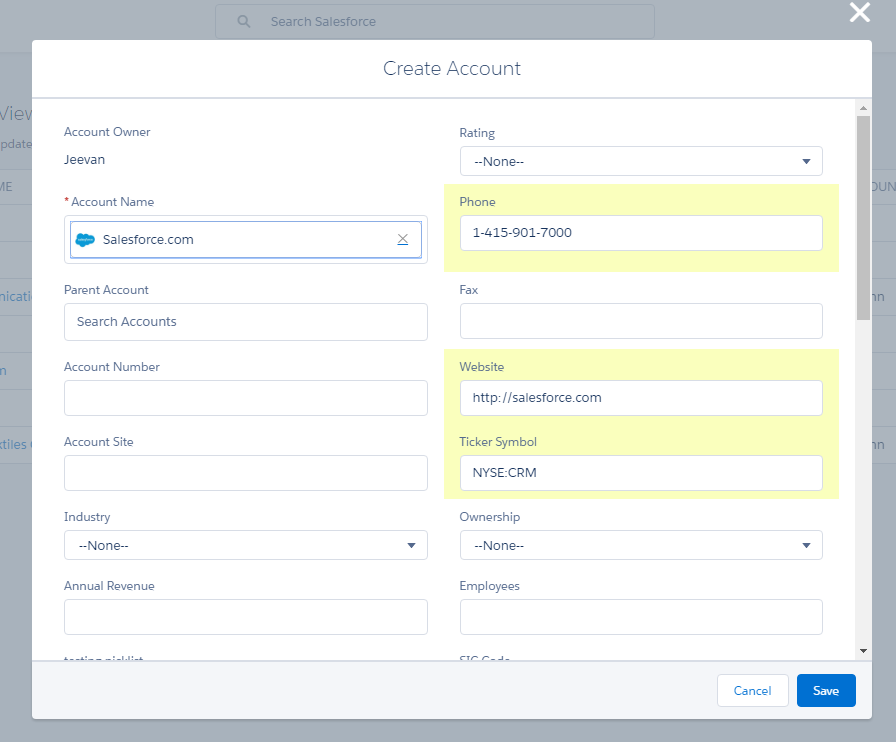 If "Account Insights" are enabled on the home page users used to see the news related to the Accounts and Opportunity. Now they also have a "News" menu where news app will give news irrespective of Accounts and Opportunity.
Make and Receive Phone Calls using "Lightning Voice" with Click to Call like Features. Users will Need Voice Licenses (Feature available at additional cost of USD 45 for Outbound and additional 5 for Inbound) to do this. Similar to a Call center application the users can add call notes, and log their call information. This will be one of the great feature – however the cost is on a higher side.
Emails through Gmail or Office 365: Users can now send their Salesforce email through their Gmail or Office 365 accounts. To enable this administrators can select "Send through External Email Services" in setup area.  Users can send emails only in Lightning Experience Email Composer using the OAuth industry standard.
New Email Object: The emails will now be stored in "Email" object and not in Activities like it used to be. Admins can now build business logic on email by creating custom fields, workflows, triggers on Email object.
Notes can be shared with other users and Groups in Chatter.
Create Calendar from any object and date fields on that. This feature is now generally available. This is one of the killer feature.
Calendars in Lightning show the time zone as well.
Functionality already in Classic now also in Lightning
Home page can be customized
Opportunity Teams
Account Teams
Person Accounts in Lightning: The wait for Person Accounts in Lightning continues. However Salesforce has given a view page on Person Accounts in Lightning.
List views have now same filtering features available as in Classic.
If you are planning to move to Salesforce.com Lightning – you can connect with us for a quick evaluation of your ORG. In a quick no obligation free one hour phone consultation we can provide you with a plan to migrate to Salesforce.com Lightning.