Salesforce's CPQ module, which makes CPQ (Configure-Price-Quote) functionality directly accessible on the Salesforce.com platform, is one of the most demanding products from SFDc family.
A reliable CPQ (Configure, Price, and Quote) platform is crucial for the success of any business to fulfill the complex demands of modern business enterprises. In this article, we are going to discuss what is CPQ, the top 10 features of Salesforce CPQ, and its benefits.

What is Salesforce CPQ software?
Salesforce CPQ, or Configure, Price, Quote Software by Salesforce, is a sales tool to provide correct pricing for any situation that involves the configuration of a product. Sales representatives can rapidly and accurately quote pricing by using CPQ software since they consider optional features, customizations, quantities, and discounts. Because of its cloud-based platform, Salesforce CPQ allows your sales team to simply use software that is accessible on any device. And thanks to tight integration with the Sales Cloud platform, you have a direct connection with your CRM that enables you to make the most effective sales decisions.
Top 10 Salesforce CPQ features
Here are the top 10 Salesforce CPQ features that we love most:
1. CPQ Favorites – One of the foremost underrated and overused features is definitely CPQ Favorites. Users of this tool can mark products (Configured bundles or quote line groups as a "Favorite"), and CPQ stores this data for any user. By allowing users to configure a bundle just once and use it many times, Salesforce CPQ helps users to avoid wasting time. Moreover, it can be used to save specific products from the catalog as favorites, which is very helpful if your product catalog is large.
Users can keep a group of individual products as a favorite by marking quote line groups as favorites. This reduces the necessity to repeatedly select many products from the catalog.

Users will only need to add to their favorite record, and those defined products will be added to the quote without any further action.

2. Quote Line Groups – There are many ways that the Salesforce CPQ feature, called 'Quote Line Groups' is used. Instead of applying parameters at the quote level, it allows users to group a product or group of products.
Other use cases for Quote line groups include grouping products that will be shipped to various business units or locations but will be billed to a single account. Or sending a customer multiple configurations, such as a quote with an annual option vs a three-year option.

3. Product Rules – The core of Salesforce CPQ is the Product and Price Rules. They make sure sales representatives consistently produce accurate quotes. The products that are included in a quote are checked for pricing accuracy using price rules.
In Salesforce CPQ, admins have access to four kinds of product rules – validation, selection, alert, and filter.
Validation – It'll show an error message which will not allow a save till the user has taken action to solve incompatible quote configuration
Alert – Users are notified of critical information, however, saving the quote isn't prevented
Selection – It automatically performs actions like selecting, deselecting, displaying, or hiding products without notifying the user
Filter – It's used in dynamic search filters which will automatically filter the product catalog
4. Price Rules – With the use of a strong tool like Price Rules in CPQ, admins can change the value of any field on a quote line, quote line group, or quote record itself.
Let's say your selling team decides they require you to run a promotion – they provide an automatic 10% discount on the whole quote, provided that the Security Console product is added. This can be easily achievable with a price rule.

The condition or action can be carried out after the price rule has been created. Although there is a condition and an action in this example, it is also acceptable to have only an action. Let's assume this deal has no restrictions and is simply a one-time 10% automatic discount on all items. To do this, simply build a product action record.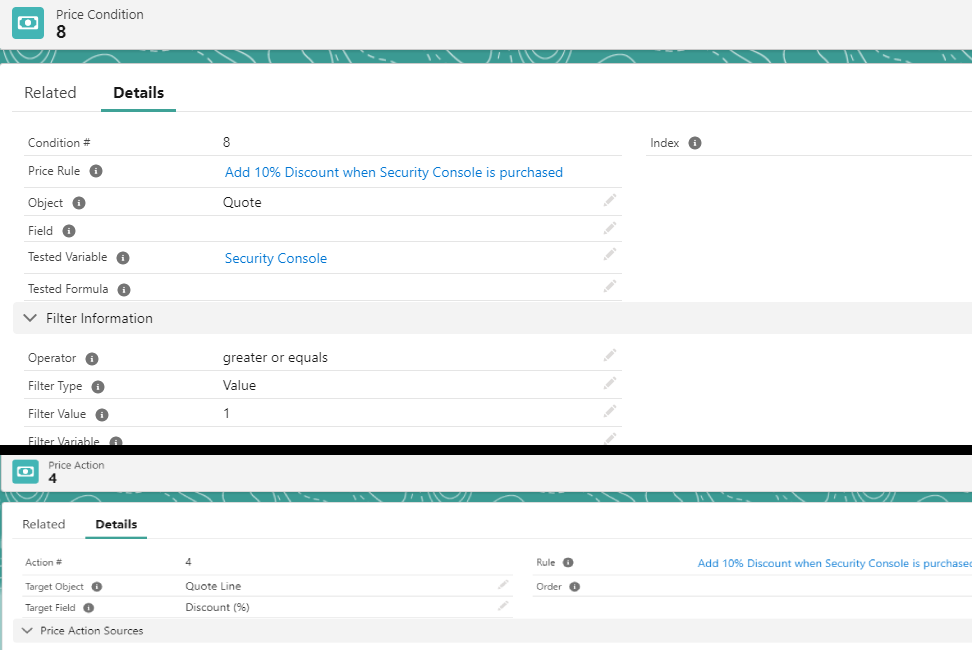 In the end, a 10% discount was added to all quote lines, overriding any discounts offered at the quote level by the sales representative.
5. Guided Selling – Sales representatives could select the most effective product to sell to their customers easily because of the Guided Selling feature of Salesforce CPQ. With Guided Selling, sales representatives can respond to a few prepared questions, and the system will display the suitable products to them instead of scrolling through a lengthy product catalog. If a product is the only one that is returned by the search, you'll be able to even instruct the system to choose it automatically.
Admins should just specify the inputs or queries, and tell the system which products match their responses. When a user enters the product catalog, Guided Selling is created to appear automatically or it is manually activated by the user.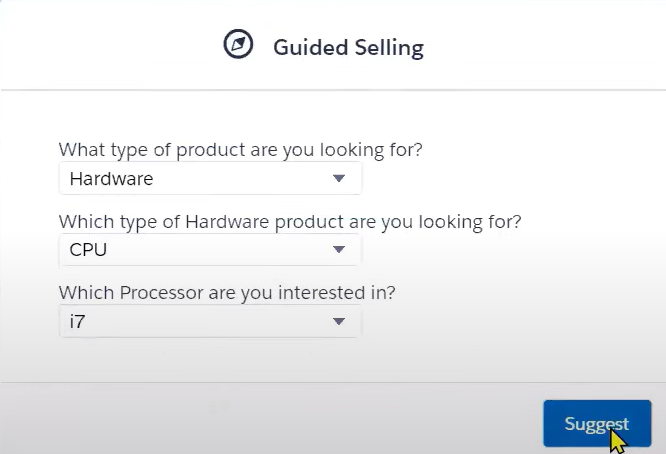 6. Summary Variables – Summary variables are quite similar to roll-up summary fields because they can summarize some fields like quantity or price. Moreover, they allow you to give criteria for the summary like product code or product family. The value of summary variables, however, isn't maintained within the system and can only be used within the quote line editor.
This indicates that you are not adding to the object's roll-up summary field limit.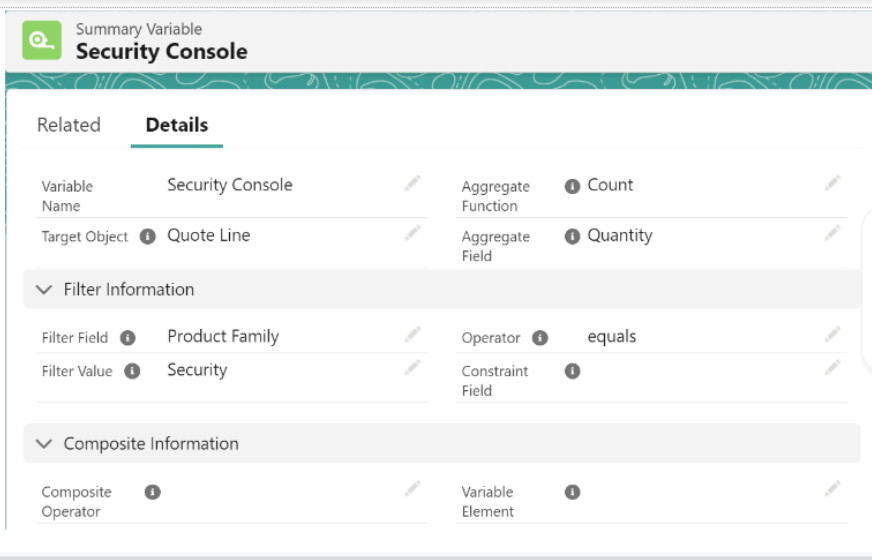 7. Generate Quotes- Salesforce CPQ allows real-time, automated creation of high-quality documentation, both in form and content, that fits the business. The sales team can predefine the elements to be reflected within the document like terms, conditions, and sections among others, based on quote models and templates that this document generator brings with it. In addition, the documents are adapted in their structure, uniformity, & presentation to the identity of the brand, which promotes an image of strength & consistency for your company.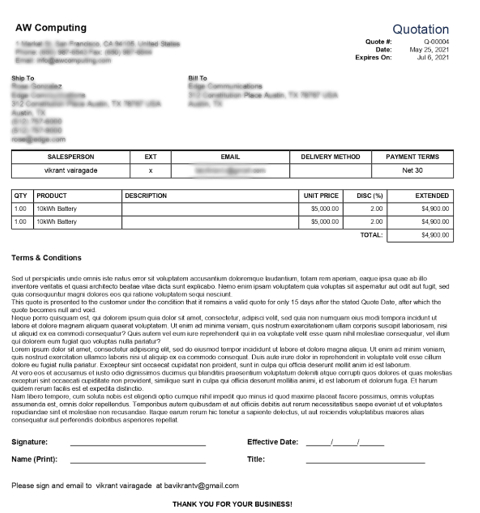 8. Contracted Pricing – Salesforce CPQ has a feature called Contracted Pricing that can automatically adjust a quote's price based on predetermined criteria. Depending on the choices for your business, contracted prices can be generated manually or automatically. Based on the record of contracted price, contracted pricing will have an impact on a product's or group of items' normal price.
For example, GenePoint and AW Computing have been business partners for a while, and over time they have worked out special pricing for several products. Some of the products are USB cords and phone chargers. Phone chargers and USB cords are a few of the items. Genepoint reduced the price of these items by creating a single Contracted Price record that appears as follows: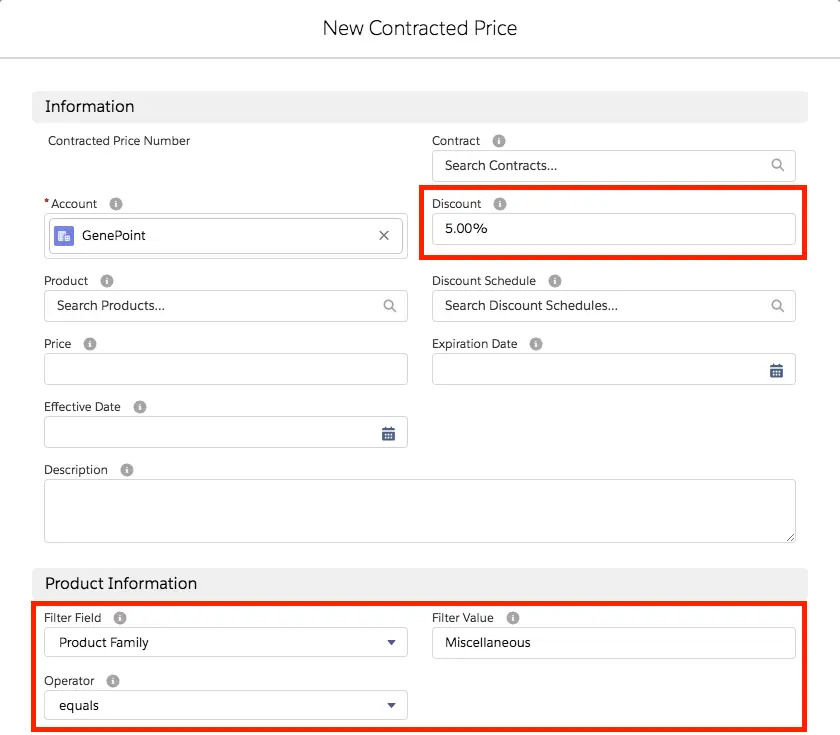 9. Multi-Dimensional Quoting Products – Multi-Dimensional Quoting Products, also known as MDQ Products, is another useful component of Salesforce CPQ. Multi-Dimensional simply refers to the product that can be affected by a dimension, such as time, and is not affected by other products on the quote, such as a software subscription versus a physical laptop acquired on an individual basis.
Here is a straightforward example of an MDQ product for a 12-month, $4,000 subscription quoted for four years.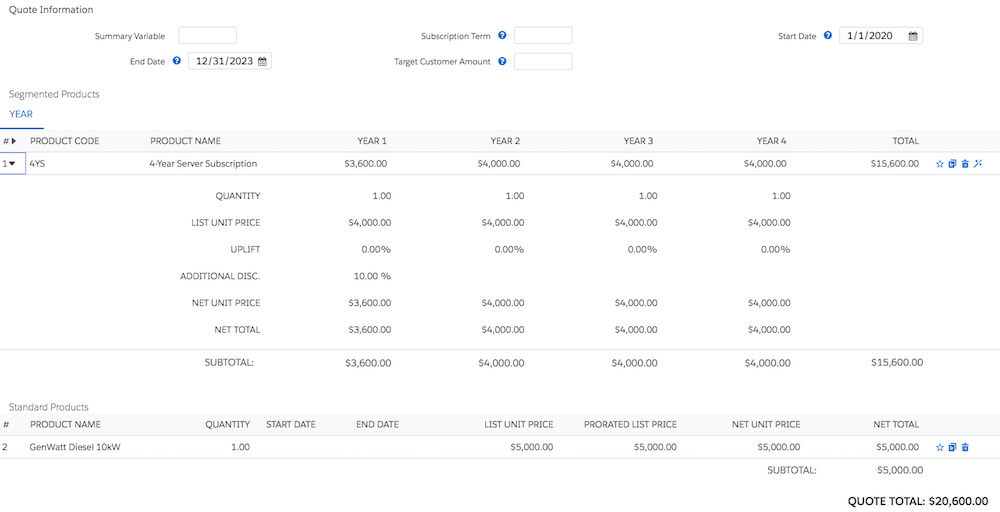 10. Twin Fields – Certain pairs of CPQ objects pass custom field values from the first object to the second object when the second object is created. If the custom fields are editable, have compatible field types, and have compatible API names, the values are accepted. Twin Fields are the name given to these field pairs.
To enable the data mapping, admins must make sure that users who are creating records have at least Read access to the source field and Edit access to the target field. Users who lack the required access risk having data gaps that could have an impact on things like modifications and renewals because values won't be copied across.
10.1.One-Way Mapping: This table's Column 1 objects send field values to Column 2 objects' Custom Fields with matching types and API names.
| COLUMN 1 | COLUMN 2 |
| --- | --- |
| Quote | Order |
| Quote Line | Order Product |
| Quote Line | Opportunity Product |
| Quote Line | Subscription |
| Quote Line | Assets |
| Quote Line | Contract Line Item |
| Subscription | Quote Line |
| Contract Line Item | Quote Line |
| Order Product | Invoice Line |
10.2. Mapping in the Configurator: Objects in Column 1 passes their custom field values to the resulting new quote lines when a bundle is configured. Salesforce CPQ sets product choice and configuration attribute values based on matching field values from their associated quotation lines when you enter the configurator to modify the bundle.
| COLUMN 1 | COLUMN 2 |
| --- | --- |
| Configuration Attributes | Quote Line |
| Product options | Quote Line |
Benefits of Salesforce CPQ
Configure Price Quote or CPQ software is one of most effective sales tools. It helps businesses to create ideal, personalized sales quotes. The technology achieves this by combining all user and price information into a single, useful platform.
It means that a salesman can generate and distribute quotes with just a few clicks. Moreover, it produces incredibly accurate, detailed quotes. The service is also adjusted to the demands of the customer. It can eliminate the inefficient practice of showing up at different sales phases. As an outcome, the process of creating quotations is simplified. It generates quotes that are customized to the client's specific needs.
Deal sizes have significantly increased for businesses using Salesforce CPQ. Companies that have adopted the Salesforce CPQ solution have reported an average increase in deal size of 105%.
Conclusion
Companies should explore a ton of fantastic features in Salesforce CPQ. See if they can now improve the daily activities of sales representatives who use the system continuously.
Book a free evaluation call or connect with our Salesforce Consultants, who can help you better use Salesforce CPQ features to streamline your business's product or item-selling process.