Efficiency, speed, agility and adaptability are important in every sector including the real estate industry where relentless transformation is only constant. In a highly competitive market it is even more critical, especially with reference to their sales and marketing functions, and it determines whether a true real estate agency will stay before its competitors or lose its edge.
With Salesforce the real estate agencies can improve the efficacy, speed, agility and adaptability of their sales and marketing functions.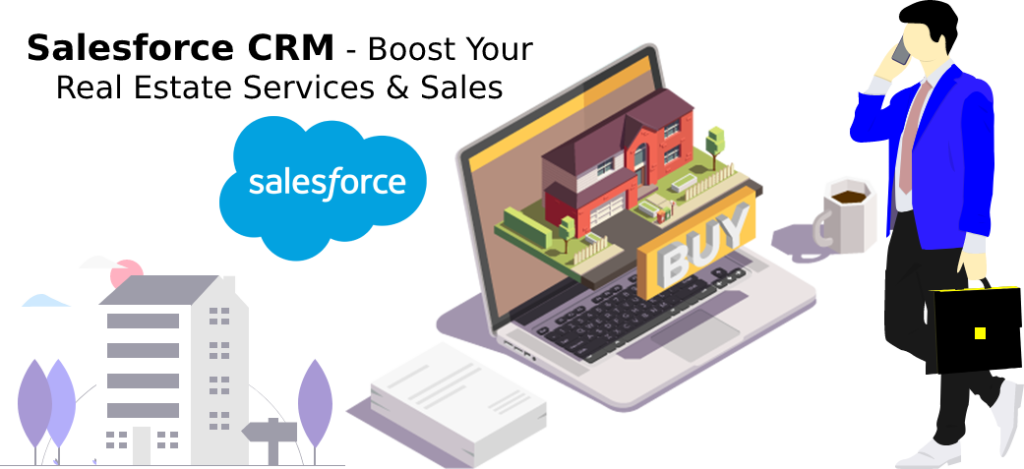 Major challenges of the CRM in the real estate industry
Multiple Listings & Clients
Real estate agents often need to handle multiple clients and multiple listings directly. They have to know the requirements, contexts and preferences of each of those clients and clearly distinguish between them to effectively negotiate and close deals. Without an automated CRM, the real estate agents have to do this manually.
Replacing Traditional ways to working
Traditionally, real estate agencies would maintain paper files (and as technology progressed, then Excel sheets) that contained the small print on individual clients. It is not uncommon for real estate agents to go through filing cabinets to seek out details of a few clients, or open briefcases, or post-it notes and diary / organizer notes with reminders then on.
The biggest challenge faced by real estate agents in using these traditional and rather outdated tools and processes is loss of effectiveness in lead and customer relationship management.
Disparate systems
Since information is scattered and recorded in disparate places, there's no end-to-end visibility for the agents. They cannot see the single view of customer in a cohesive manner through a centralized database. This results in endless hours of manual work and the time taken for doing the work will increase, especially when client requirements are complex.
Leads Tracking
It is challenging to track leads, activities done with them and lead status. They need a modern CRM software like Salesforce.com to track.
Property Tracking
Without the help of CRM in real estate it is difficult to accurately and speedily know which properties are present and which are on hold when data is scattered and not in a centralized database. The agent had to spend time and energy getting through the vast inventory before she/ he can share information in a consistent format with the customer.
Communicating with Customers
Given the competitive naIn today's day and age customers want to connect through different communication channels including social media. Today we have multiple channels of communication with the clients at different levels by different people, which adds further complexity to relationship management, marketing and sales. And there's an extra chance of knowledge getting scattered. In such cases there is a need to CRM that can handle the communication through multiple channels.
A major part of a true estate agent's role is to develop and maintain strong relationships with buyers, sellers and brokers, especially high-value clients. Even when a transaction is over or if it falls through, the connection must be maintained to enhance chances of future collaborations and referrals. When real estate agents use outmoded technology and/ or manual processes, they'll not be ready to be in-tuned with such clients regularly and proactively.
The challenges faced in using traditional methods and tools are missed meetings, slow response times, forgotten forms, manual drudgery and operational inefficiencies.
Ture of the industry, these challenges cause real estate agencies using traditional and outdated or no CRM, to not just lose time but miss the opportunities as a result of the incoherent processes and scattered information.
How the Salesforce.com CRM is revolutionizing real estate services?
Salesforce.com CRM in the real estate industry is one of the most effective and comprehensive tools that aligns sales and marketing data (including client history, referrals, leads from different sources, etc.) from multiple sources and channels of communication during a centralized database with minimal duplication and manual processes.
Time is money in land and Salesforce in real estate, equipped with cloud functionalities and intelligent automation, empowers agencies to attenuate reaction time to leads and clients.
Work from anywhere
Agents have access to information from anywhere, anytime from the centralized database. Using features of salesforce in real estate, agents can do a map search and parameter search of all properties and send instantaneous PDF copies of obtainable properties to customers.
Effective Communication
With the assistance of intelligent automation in Salesforce in real estate, agencies can make sure that no communication or query is missed. Even when the agent is unable to reply to a question, a custom automated message is often sent to the lead/ client that the query has been received which the agent will revisit as soon as possible.
Workflows Automation
With intelligent automation with salesforce in real estate, all kind of reminders, feedback collection, referral programs, personalized messages to previous clients, etc. are often automated and therefore the focus on the agent's time and a spotlight are often reduced.
Live tracking of Agents
Live tracking of agents and knowing exactly where they're is formed possible through GPS tracking.
Sales Pipeline / Sales Cycle
In the real estate industry, there are fewer but crucial steps involved within the sales process, unlike some other industries which have several smaller transactions which are less complicated. So, the method of warming leads up, converting them into clients and shutting a transaction requires meaningful and focused time investment.
Analytics
If the transaction fails at the last moment, the agent will suffer significant losses which is not good. With the assistance of analytics of salesforce in real estate, agents can effectively sense when things aren't going well, understand why clients may be dropping off and choose if they ought to still invest time into the deal.
In summary, Salesforce.com CRM in Real Estate will result in:
Faster Response Times
Integration of knowledge from multiple channels and disparate sources.
Breaking of data silos that hamper and erode the CRM processes.
Effective lead management and tracking
High mobility for agents who are always on the go as full functionality is out there on the go, across devices.
Enhanced internal functioning
Reduction of your time and resource wastage
The foremost successful real estate agents and agencies have already leveraged Salesforce.com CRM in the Real Estate industry for greater efficiency, agility, speed and adaptability, and are gaining strategic and competitive advantages.
Conclusion
Salesforce makes the CRM processes a lot easier for Real estate industry. Salesforce in real estate makes the whole end-to-end process transparent and hassle-free. So if you want to crack your every future deal, we suggest that you contact us for more details. Contact our team of CRM experts to know more about our Real estate offerings on Salesforce. Let's make your business successful together.