What is WebMerge
WebMerge is an online document generation platform created to help users streamline various paperwork processes.WebMerge can help you make Word documents, prepare Excel spreadsheets, set up PowerPoint presentations, and create PDF files on the fly. Moreover, this application offers data routing features, delivery solutions, multiple user access options, data uploading tools, and more.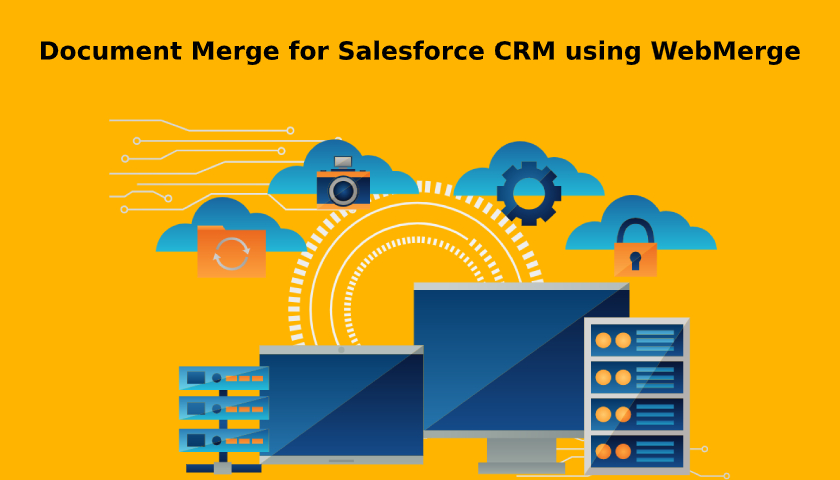 Using WebMerge, you can save hundreds of hours of manual data entry as well as simplify file sharing within your company. With the single click of a button, they can generate documents without having to manually type or copy data. On top of that, the software can easily integrate with all sorts of services on the web that can send data outside their system.
Features of WebMerge
Customizable Document Templates
Fillable PDF Forms
Word Documents
Excel Spreadsheets
PowerPoint Presentations
HTML Document Builder
Easy Data Routing
The Smartest Logic
Dynamic Content
Multiple User Access
Simple Data Upload
In-app Data Capture
Flexible Delivery Options
Data privacy and security
Using WebMerge with Salesforce CRM
WebMerge can automate your document generation so your sales team can easily generate contracts and proposals. We can merge Salesforce data into documents and speed up your time to close by never copying and pasting data or contact information ever again.
Enhance your document generation process in 3 easy steps:
Upload or create your documents in WebMerge.
Integrate with your standard or custom Salesforce objects.
Generate professional documents from Salesforce with a click.
With various file types at your fingertips, you can easily create professional-looking documents that fit right in with your business. Whether you need a dynamically-generated PDF document, or the flexibility of a Word doc, Excel spreadsheet, or PowerPoint presentation, we've got you covered.
Multiple delivery options make integrating documents with your workflows a breeze. Whether you need to send docs via email, save them in the cloud, or route them to a 3rd-party app, the possibilities are endless.
How to Install Webmerge for Salesforce
1) Install Webmerge app into your Salesforce
2) Go to Salesforce appexchange marketplace search for Webmerge or click this link https://appexchange.salesforce.com/listingDetail?listingId=a0N3000000B53bmEAB to install the app in salesforce.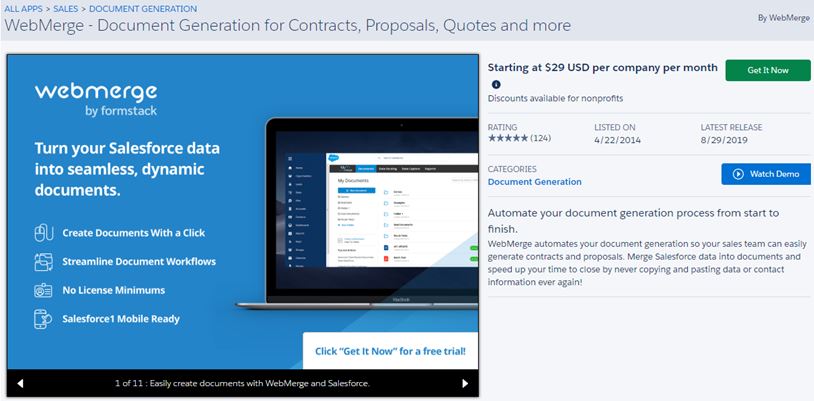 3) Click on the Get It Now button.
4) If you are not already logged into salesforce, you have to login to the AppExchange. Click the blue Login button.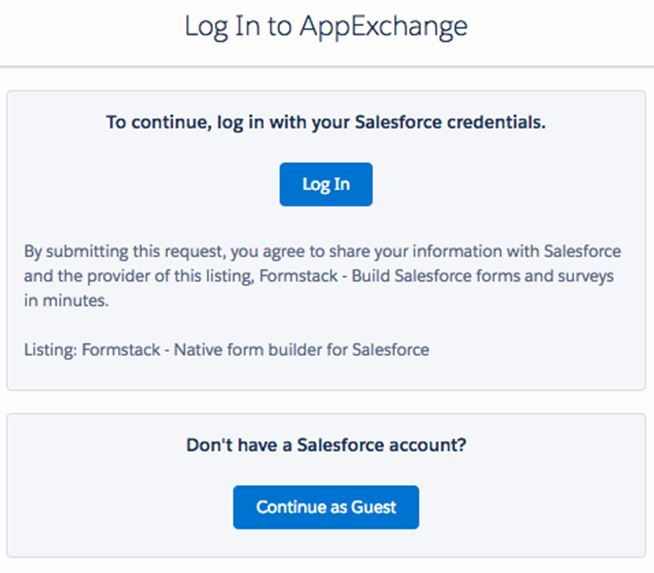 5) Once you have logged in, you'll be taken back to the app listing. Again, click on the green Get it Now button to install the app.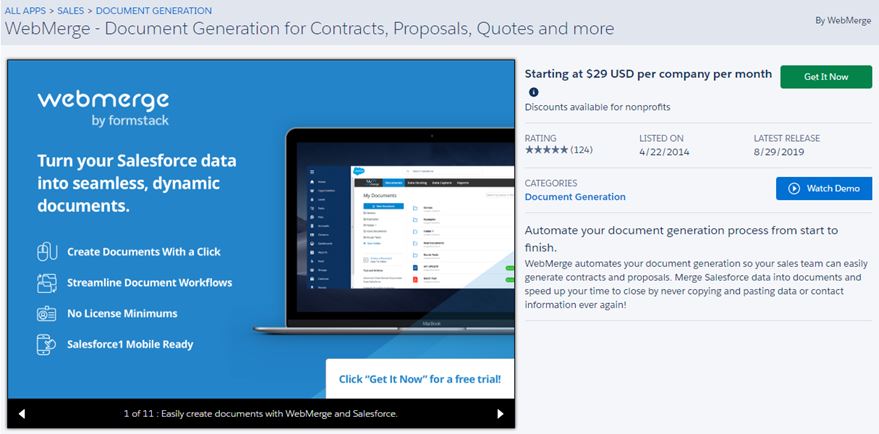 6) Next, you'll be asked if you want to install the app in Production or Sandbox. Choose the appropriate environment by clicking the blue button.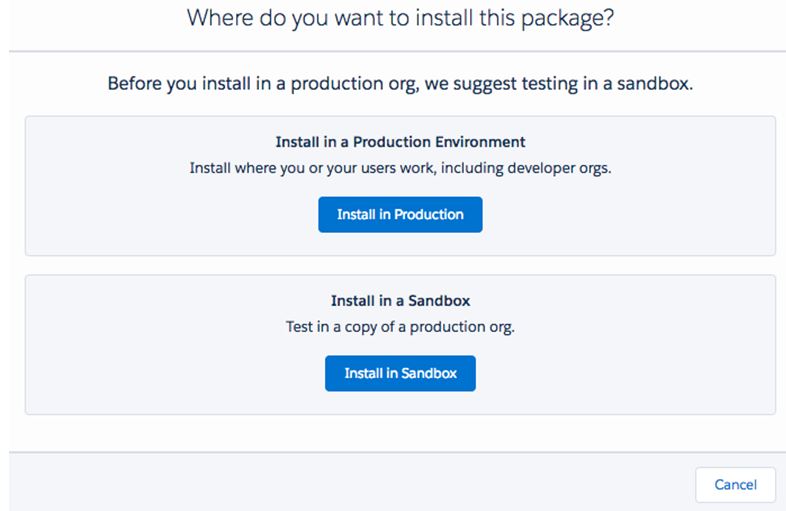 7) Confirming Installation Details With this, you have to confirm that you agree with Terms and Conditions with installing the app. In order to do this, click the checkbox to the left of the text. Click Confirm and Install when you are finished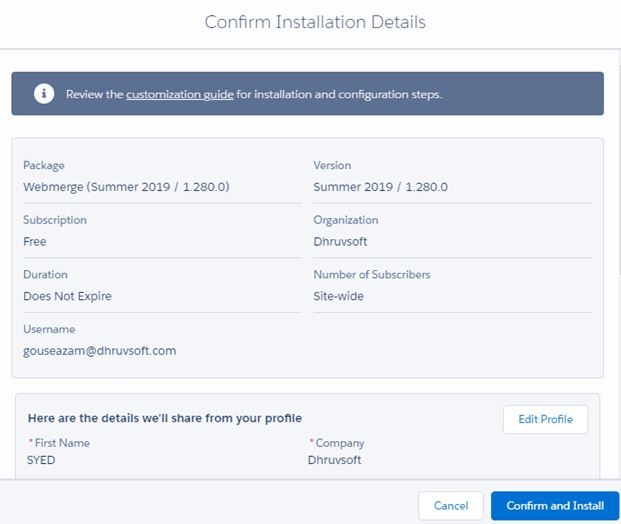 8) Depending on what environment you selected, you have to enter the username and password for that particular environment. Click Log In.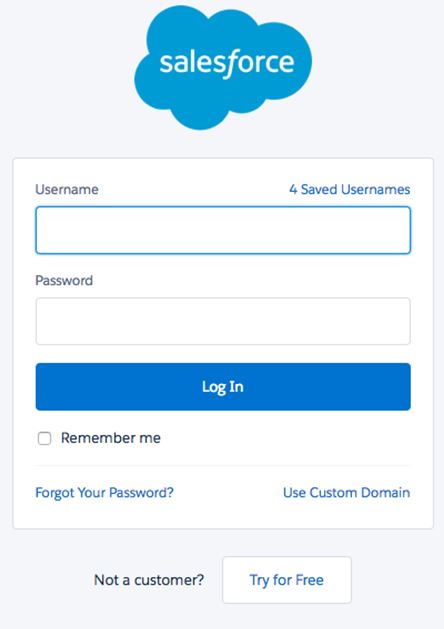 9) Next, you'll want to choose which profiles you'd like to install the app for. You can choose between
Admins Only
All Users
Install for Specific Profiles
This will be up to you. If you have any questions, ask your Salesforce Administrator or reach out to our Support channel for clarification.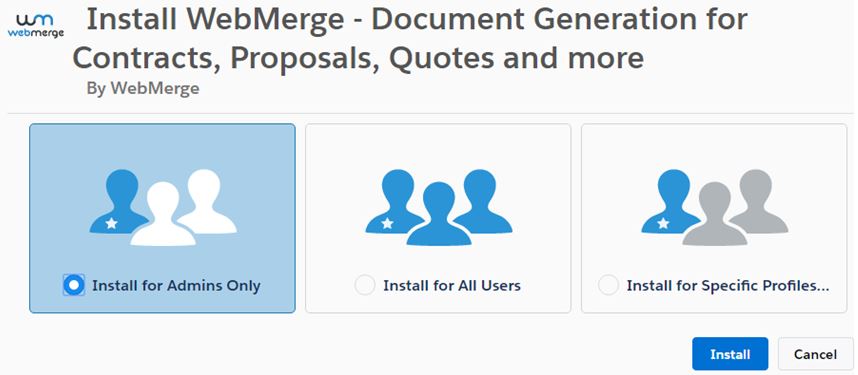 10) Click the checkbox to grant access to third-party web sites and click Continue.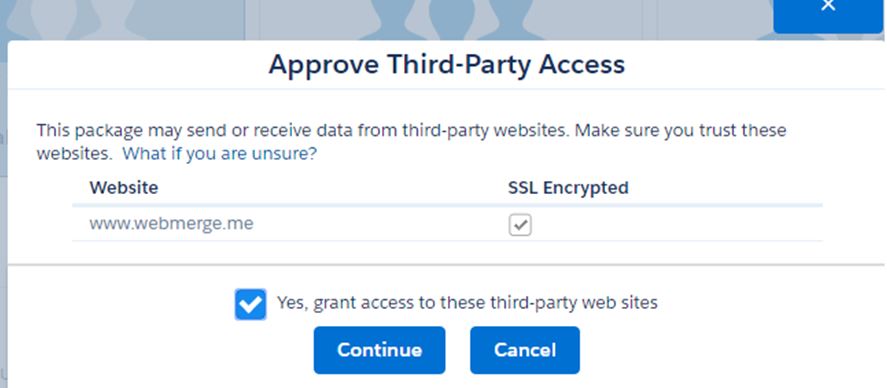 11) Lastly, you'll just need to wait as the pack installs! If the package says it is taking too long, you'll receive an email once the installation is finished. Now you can log in to Salesforce and start building forms!


Creating your first Document with WebMerge in Salesforce
For example, we are going to generate a Non-Disclosure and Confidentiality Agreement Document(NDA) from an Opportunity record using a Word document as a template. So first we need to setup this template and upload that to WebMerge. In the template we are going to collect information about the client and consultant details and the date of the NDA.
Once you have finished the template, then upload it to WebMerge. Click the New Document button from the document page in webmerge and enter the document name "NDA Document" and click the Next button. Choose the type of document template and then pick the file from your computer to upload.
After you upload the NDA template, you'll be taken to the Settings tab where you can update things like the type of file that we want to generate as well as the name of the file. For this example, we're going to generate a MS Word document and we are going to add the name or date of our client in the Name of the file.
Now, go to the WebMerge app. We are going to set up a new "NDA Mapping" so that the data is automatically mapped from our Opportunity object to the WebMerge document.
After you have done the mapping setup, go ahead and save it, then let's jump over to the Opportunities page layout section. you need to add the webmerge button to the Opportunity page layout.
To add the button, click the Edit page layout and then click the buttons section on the next page. From there you should see a webmerge button. drag the button down onto the page layout of opportunity and save the layout.
If you want to generate a document from the Opportunity, go ahead and click the webmerge button on the page.
This will take you to a page that shows you all of the mappings you have attached to the Opportunity. Choose the one document you want to merge and click merge document.
After you click on Merge Now, this will automatically be added to your Opportunity record under the Notes & Attachments section. You may have to refresh the page if you don't see the document.
Here's the output of the NDA Document:
Use Cases of WebMerge for Salesforce
Here are some of the use cases of Webmerge for Salesforce.com
Automate your Salesforce document generation
Generate dynamic proposals, quotes, invoices, and reports with your Salesforce data.
Sales Marketing Automation
WebMerge helps sales and marketing teams in making sales sheets, presentations, and contracts and saving a lot of time for them.
Automatically generate customized contracts
Customers can reduce the preparation time and streamline inefficient, manual processes with automated WebMerge contracts.
WebMerge for Form Automation
WebMerge can help businesses with easy information capture tools / forms. Customers can also integrate with PDF forms.
Data Routing
With Webmerge customers can route information to generate multiple documents at once with predefined rules.
WebMerge for Salesforce – Getting Help
Looking for help with your Salesforce.com implementation? Dhruvsoft provides Salesforce.com CRM Implementation Services and Salesforce Support Services. If you are looking to help regarding using WebMerge of other Document Merge solutions for Salesforce.com – connect with us.